Free Supersized Painting Workshop for high school, university students April 28
April 21, 2018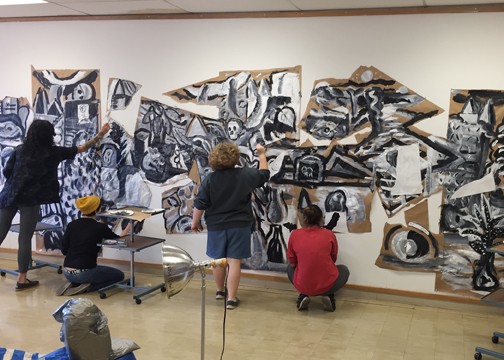 Students work on a supersized painting during class at Northwestern.
Northwestern Oklahoma State University's visual arts program welcomes all high school and Northwestern students to a free "Supersized Painting Workshop" April 28 from 10 a.m.-3:30 p.m. in the Jesse Dunn Arts Annex, third floor.
"From working on an independent, gestural acrylic painting to creating an expansive, collaborative large-scale painting, students will learn expressive, bold painting techniques while having fun," Kyle Larson, assistant professor of art, said.
The workshop will be conducted by Larson and students in the visual arts program.
Larson said that materials and lunch are included in the workshop.
Students should contact Larson at krlarson@nwosu.edu by April 26 to reserve a spot in the workshop.
The workshop schedule follows:
10 a.m. to noon: Individual Gestural Painting Session, through direct observation of a constructed scene within the studio, students will create an 18x12'' gestural acrylic painting. Students will learn basic form building and mark-making techniques while creating their own unique composition.
Noon to 1 p.m.: Break for provided lunch
1 to 3:30 p.m.: Collaborative Large Scale Painting, After returning from lunch, students will use the skills acquired in their individual paintings to create a large-scale collaborative painting. Students will collage together fragments of paintings, re-orchestrate compositions and imagery, and practice active, gestural painting techniques.
-NW-