Fifth Annual 'Compassion in Action Dignity Drive' Underway
October 2, 2020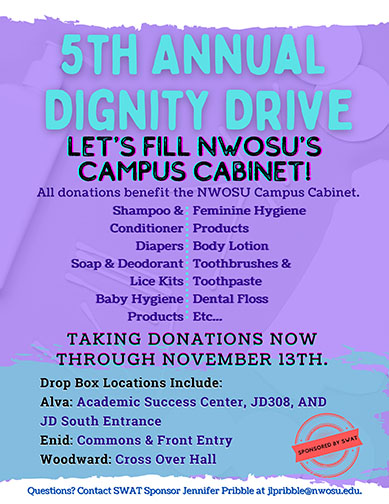 The Northwestern Oklahoma State University chapter of the Social Workers Association of Tomorrow (SWAT) organization is accepting donations for personal hygiene products as part of the 'Compassion in Action Dignity Drive' at all Northwestern locations until Nov. 13.
"I am so excited for this year's SWAT Dignity Drive," Wynter Wilson, social work senior and SWAT president for the Woodward campus, said. "This drive allows students to work within their communities to decrease the need of hygiene products, and this year we are focusing on Northwestern's students.
"This opportunity gives us the ability to practice our "social work" skills by working to keep the Campus Cabinet stocked with hygiene products that students may need. Any day we have the opportunity to assist is a great day."
This year SWAT will be gathering donations for Northwestern's Campus Cabinet, a resource available to assist Northwestern students and employees. This resource offers non-perishable food assistance as well as hygiene products. In order to assist, all requests can be made via their online web form. To learn more and access this resource visit their web page at www.nwosu.edu/campus-cabinet.
Items needed on all three campuses are shampoo, conditioner, soap, deodorant, feminine hygiene products, diapers, baby hygiene products, lice kits, body lotion, toothbrushes, toothpaste, dental floss and other personal care items. Donated items can be dropped off at the Northwestern-Enid Commons Area and front entryway, the Northwestern-Woodward cross over hall, and the Northwestern-Alva Academic Success Center, Jesse Dunn 308 and JD South Entrance.
For more information concerning the Compassion in Action Dignity Drive, contact Jennifer Pribble, assistant professor of social work and director of field experience, in Enid at (580) 213-3148 or jlpribble@nwosu.edu.
-NW-
CONTACT FOR RELEASE
Erin Davis, University Relations Specialist
eedavis@nwosu.edu, 580-327-8480