Entry deadline February 24 for 18th art show at Northwestern
February 2, 2021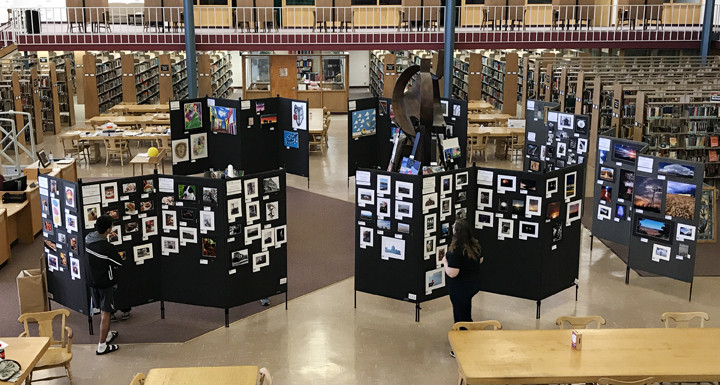 The J.W. Martin Library on the Northwestern-Alva campus will soon have panels of artwork displayed for the 18th annual NWOSU Art Society Art Show. Entries should be submitted no later than Feb. 24.
The entry deadline for forms to be submitted for the 18th annual Northwestern Oklahoma State University Art Society (NAS) Art Show in the J.W. Martin Library on March 7-26 will be here soon. Forms should be submitted no later than Feb. 24. Artwork should be delivered to the library on March 3 from 8 a.m. to 5 p.m.
All Northwestern students, employees, retired employees, and alumni from all campus locations are encouraged to enter.
"We hope that we have a great response to entries from our Ranger family this year after having our show cut short last year because of the pandemic," Angelia Case, art society sponsor, said. "We think giving our students, current and retired employees and alumni a chance to show off their talents is just what we need at this time."
NAS has offered prize money to students in the past and will continue to do so this year; however, because of the pandemic club members have not been able to do their normal fundraising to help provide for all prizes leaving them no choice but to reduce the prizes offered.
Prize ribbons will be awarded to all students and non-students winning first through third place in all categories, along with Best of Show and People's Choice. A $50 cash prize will be awarded to the student winning Best of Show, and the students placing first place in each category will earn $10. Everyone entered in the show is eligible to receive the People's Choice cash prize of $25.
Two items in each of the following categories may be entered:
Artisan Crafts (jewelry, pottery, etc.)
Fiber Arts (crochet, knitting, needlework, etc.)
Quilting
Cartoon/Comics
Digital Art
Mixed Media/Collage
Paintings – Watercolor (any subject)
Paintings – Animals/Creatures
Paintings - Architecture
Paintings - Elements of Design
Paintings - The Figure/Portraiture
Paintings - Landscapes/Nature
Paintings – Still Life
Paintings - All other subject areas
Works on Paper – Animals/Creature
Works on Paper - Architecture
Works on Paper - Elements of Design
Works on Paper - The Figure/Portraiture
Works on Paper - Landscapes/Nature
Works on Paper – Still Life
Works on Paper - All other subject areas
Photography will include 11 sub-categories:

Animals/Creature
Black and White
Landscapes
Cityscapes
Light
Elements of Design
Macro
People
Nature
Still Life
All other subject areas other than those listed
All art or concepts, including cartoon/comic characters, must be original to the artist. No previously submitted artwork will be allowed. Photo entries must be at minimum 5x7 images that are matted or mounted – no frames. All fine arts entries should be framed or matted and ready to hang. Only three-dimensional work is exempt, and it must be labeled.
Case added that special attention to the presentation of artwork is highly recommended as it could mean the difference to judging the piece.
A Winner's Show is tentatively scheduled for April 2 from 6 to 8 p.m. at the Runnymede in downtown Alva during its regular First Friday Artwalk events unless COVID-19 causes a cancellation.
Entry forms and category descriptions are available online at www.nwosu.edu/art/nas-art-show.
For more information about the art show, please contact Case at (580) 327-8577 or arcase@nwosu.edu.
-NW-