Eighteen to compete for 68th Miss Cinderella Pageant title during Northwestern's Homecoming
October 7, 2019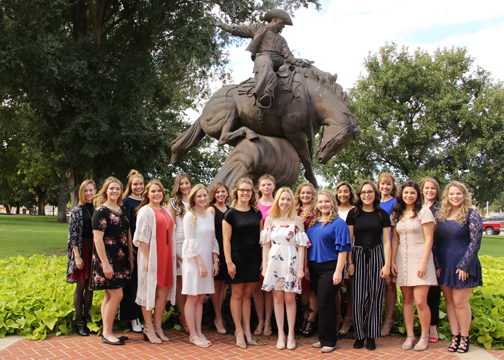 High school seniors who are competing in the 68th annual Miss Cinderella Pageant are (back row, left to right) Victoria Watkins, Emily Lintner, MaKenzie Miller, Jadin Wilkinson, Laney Neal, Taylor Morris, Lizbeth Avalos, Carli Seabolt, Jimmi Winn; (front row, left to right) Joslyn Clem, Malayna McKitrick, Rebecca Wagner, Addison Schanbacher, Sydnie Lookingbill, Kylee Harzman, Abbie Neill, Lauren Lagos and Carleigh Stallcup.
Northwestern Oklahoma State University held its annual Miss Cinderella Orientation session Sunday, Oct. 6, and welcomed 18 young women who will be representing their high schools from Oklahoma and Kansas during the 68th annual Miss Cinderella Pageant held as part of the school's homecoming celebration in October.
Contestants and their sponsors met with the pageant committee to review all requirements and rules associated with the talent show set for Oct. 24, the pageant itself on Oct. 25, and Northwestern's homecoming parade on Saturday, Oct. 26.
Dr. Janet Cunningham, university president, welcomed the contestants to campus.
The contestants had their photos taken for publicity purposes. The committee covered rehearsals, judging criteria, wardrobe requirements and all of the other activities connected with the pageant.
Participants will be assigned jewel groups—Amethyst, Sapphire, Emerald and Ruby— for judging purposes at the upcoming talent rehearsal.
The winner of Miss Cinderella will receive eight semesters of tuition and a one-year room waiver scholarship at Northwestern-Alva.
The first and second runners-up will receive six and four semesters of tuition, respectively.
Third and fourth runners-up will receive a one-year room waiver in addition to the tuition scholarship each contestant already receives.
Each contestant who participates in the Miss Cinderella Pageant automatically receives a one-year tuition scholarship to Northwestern-Alva.
All Miss Cinderella contestants also are a part of the annual homecoming parade that takes place Saturday at 10 a.m. on the downtown square.
The 2019 high school seniors who are competing and the high schools they represent are: Lizbeth Avalos, Fargo-Gage; Joslyn Clem, Cherokee; Kylee Harzman, Alva; Lauren Lagos, Burlington; Emily Lintner, Mooreland; Sydnie Lookingbill, Shattuck; Malayna McKitrick, South Barber, Kansas; MaKenzie Miller, Woodward; Taylor Morris, Vici; Laney Neal, Timberlake; Abbie Neill, Sharon-Mutual; Addison Schanbacher, Medford; Carli Seabolt, Perry; Carleigh Stallcup, Chisholm; Rebecca Wagner, Pawnee; Victoria Watkins, Ringwood; Jadin Wilkinson, Buffalo; and Jimmi Winn, Laverne.
Admission to either the Miss Cinderella Talent Show on Oct. 24 or the Miss Cinderella Pageant on Oct. 25 is $10 each night for adults, $5 for students with a student ID or $10 total with the purchase of a Homecoming button. Buttons will be available at the door on Talent Show night. Both events will be held in Herod Hall Auditorium.
To purchase buttons contact Karen Koehn, button sales chair, at (580) 327-7273 or kkoehn@nwtech.edu. Tiffany Misak, Enid administrative assistant at (580) 213-3101, is button sales representative for the Enid campus, while Emmy McNeal, Woodward campus coordinator, can be contacted for buttons in Woodward at (580) 254-2503.
Anyone who wants to purchase buttons and is not contacted by one of the salespersons can buy them at the Alva Chamber of Commerce office located at 502 Oklahoma Blvd., (580) 327-1647; the Northwestern Foundation office in the Student Center, (580) 327-8593; the Northwestern Bookstore, (580) 327- 8618; or the Northwestern business office in Herod Hall, (580) 327-8536.
Buttons also will be available at Alva Vision, (580) 327-2393; Holder Drug, (580) 327-3332; La DEE Da's, (580) 327-0382; Shepherd Oil Convenience Store, (580) 327-8055; Sights and Sounds/Radio Shack, (580) 327-0409; and Rialto, (580) 327-0535.
An entire list of previous Miss Cinderella winners, homecoming activities, button incentives and button purchasing locations, can be found at www.nwosu.edu/homecoming.
-NW-
CONTACT FOR RELEASE
Erin Davis, University Relations Specialist
eedavis@nwosu.edu, (580) 327-8480