Education Fair opportunity set for education majors Oct. 14
October 7, 2019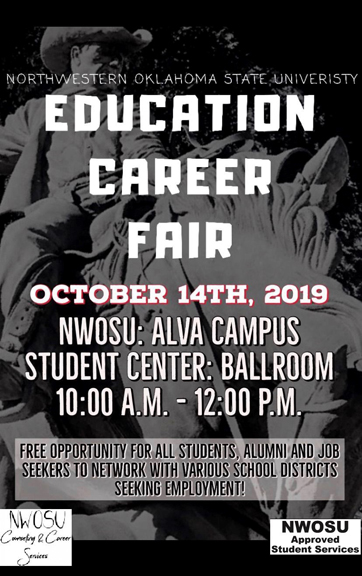 Education employers seeking employees have an opportunity to go right to the source by attending the fall 2019 Education Fair at Northwestern Oklahoma State University-Alva on Monday, Oct. 14, in the Student Center Ballroom from 10 a.m. to noon.
Northwestern education majors are welcome to attend the fair and should be prepared to provide copies of resumes and cover letters.
Oklahoma education organizations currently attending are Aline-Cleo Public Schools, Alva Public Schools, Bridge Creek Public Schools, Calumet Public Schools, Clinton Public Schools, College Bound Academy, Collegiate Hall, El Reno Public Schools, Enid Public Schools, Epic Charter Schools, Great Salt Plains Health Center, Guthrie Public Schools, Guymon Public Schools, Ponca City Public Schools, Sand Springs Public Schools, Tulsa Legacy Charter Schools, United States Department of Agriculture Natural Resources Conservation Service, and Woodward Public Schools.
Kansas area education organizations currently attending are Dodge City Public Schools, High Plains Educational Cooperative, Southwest Kansas Area Cooperative Area 613, Unified School District 255 in South Barber, and Wichita Public Schools.
Taylor Wilson, director of counseling and career services, also encourages job seekers to dress well and to stop by her office in Fine Arts 209 if they need any help prior to the fair. She also may be reached at tawilson@nwosu.edu.
For more information or to schedule an appointment visit www.nwosu.edu/student-services/office-of-career-services.
-NW-
CONTACT FOR RELEASE
Erin Davis, University Relations Specialist
eedavis@nwosu.edu 580-327-8480