Dr. Kay Decker named to Journal Record's 'Fifty Making a Difference' List
August 29, 2019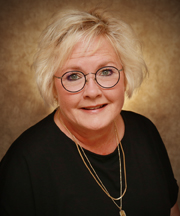 Dr. Kay Decker, professor of sociology at Northwestern Oklahoma State University, recently was recognized by The Journal Record as part of its 2019 list of "Fifty Making a Difference." This list spotlights female business and community leaders making a difference in Oklahoma and includes individuals from various sectors, both private and public. Decker is one of 40 first-time honorees on the 2019 list.
"When I received notification about the Journal Record's 'Fifty Making a Difference' list, I was surprised and extremely honored and thankful," Decker said. "It took me a bit to consider all that it meant. There are many women across the state of Oklahoma who work very hard for their communities, the state, and for our citizens, and to join the ranks of those women is exceptionally humbling.
"I see this award as an opportunity to build connections with others, both women and men, across our state and region that can assist in building strong partnerships and forging new pathways for a bright and engaging future for our state. The key to progress for our communities and state will be the result of collaboration and cooperation between the private and the public sector. No one entity can reach all people and make decisions that are right for everyone. Together, however, we can create the vision we hope to achieve."
Decker has several current and past leadership roles with various organizations including being on the board of directors for Oklahoma Coalition for Affordable Housing; past president, board of directors for Preservation Oklahoma; past president, Oklahoma Sociology Association; state advisory board member, Oklahoma Main Street Program; and chair, Alva Arts Alliance.
She also is a member of several organizations including the Mid-South Sociology Association, Woods County Economic Development Committee, Northwestern Citizenship Institute Executive Committee and the Woods County Mineral Owners Association.
She is known for her work as the executive director of the Freedom West Community Development Corporation. Together with her staff and board, they have built and rehabilitated more than 170 affordable housing units in northwest Oklahoma. The corporation works to bring the power of public and private partnerships to the forefront of community revitalization. Their programming efforts focus on the idea that all communities need to reinvent themselves periodically, while capitalizing on the strengths of their history, natural resources and traditions.
Decker has received several honors and awards throughout the years including the National Social Work Organization Director of the Year, John Sheffield Teacher of the Year at Northwestern, National Conference on Race and Ethnicity in American Higher Education Scholar and most recently was named the Alva Goldbug Education Foundation Distinguished Goldbug for Humanitarianism.
The 2019 honorees of the Journal Record's "Fifty Making a Difference" will be recognized during an awards gala at the National Cowboy and Western Heritage Museum in Oklahoma City on Oct. 10.
-NW-
CONTACT FOR RELEASE
Erin Davis, University Relations Specialist
eedavis@nwosu.edu, 580-327-8480