Dr. Cornelia Mihai named John Sheffield Teacher of the Year
May 12, 2017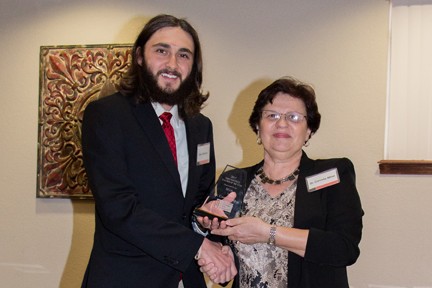 Recent Northwestern Oklahoma State University graduate and Student Government Association president Nick Villalobos (left) presented Dr. Cornelia Mihai (right) with the John Sheffield Teacher of the Year award during an annual ceremony.
---
Dr. Cornelia Mihai, professor of chemistry for 13 years at Northwestern Oklahoma State University, recently was named the John Sheffield Teacher of the Year.
"I was emotionally touched learning that my students appreciated my teaching efforts, and they felt they have to share with me their appreciation," Mihai said about receiving the award. "It is a confirmation that my activity as an educator resonates with my students in a positive way."
Mihai was born in Bucharest, Romania. She holds a Bachelor of Science degree in chemical engineering (Technology of Organic Compounds) from Polytechnic Institute of Bucharest, Romania. Mihai also has a master's degree in chemistry and a Ph.D. in Medicinal Chemistry from the University of Illinois at Chicago.
She taught undergraduate-level classes including general chemistry, organic chemistry, principles of drug action and therapeutics, and medicinal chemistry graduate-level classes for more than four years at the University of Illinois at Chicago.
Prior coming to Northwestern, Mihai was working as a research associate at Albany Molecular Research, Inc., as a research scientist at Integrated DNA Technologies in Coralville, Iowa, and as a postdoctoral research associate at the University of Iowa, Iowa City. She has more than 10 years of research experience and a proven record in synthetic medicinal chemistry, bioorganic chemistry, biocatalysis, and mechanistic and synthetic enzymology.
"I have always enjoyed sharing my knowledge in science and my passion for chemistry by tutoring students, and after spending years in research, I have decided to pursue a career as an educator," she said. "A full-time teaching position at a small university such as Northwestern has allowed me to fulfill both my passions to teach chemistry and to mentor students through research."
At Northwestern, she teaches general and organic chemistry. Mihai's passion is overall promoting science, organic and medicinal chemistry, and she hopes to convey her passion to her students at Northwestern and help promote them to pursue careers in chemistry, pharmacy and other pre-health fields.
Her favorite part of being an educator includes seeing the students growing and thriving professionally and that she is able to help students reach their career goals and to prepare them to become productive citizens. She enjoys working at Northwestern because of the friendly and supportive atmosphere and the narrowed class sizes that allow for better interaction between her students, herself and her colleagues.
When not teaching, Mihai enjoys reading good books, watching movies and listening to Classical and New Age music.
-NW-
Contact for Release
Ali Gavitt, University Relations Specialist
apgavitt@nwosu.edu, 580-327-8480