Delta Zeta to join Art Society in bringing 10th annual Holiday Store for Kids, Photos with Santa event to Northwestern Dec. 14
December 4, 2019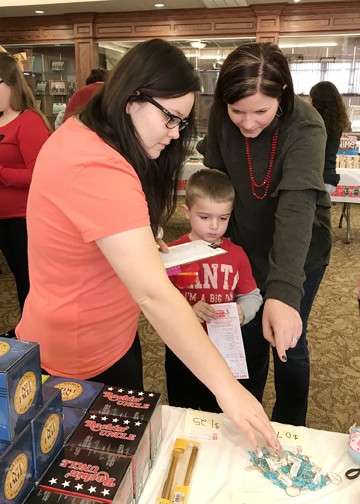 Helping Rett Oswald shop for gifts at the Holiday Store for Kids are his mother Dr. Jennifer Oswald (right), and Jessica Wildman, Delta Zeta president. The store and Photos with Santa will take place this year on Dec. 14 from 10 a.m. to 2 p.m.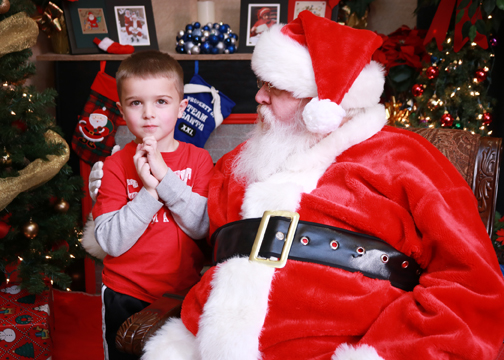 Rett Oswald, son of Assistant Professor of Education Dr. Jennifer Oswald and husband Nick, contemplates what he'd like for Santa Claus to bring him for Christmas during the 2018 Photos with Santa and Holiday Store for Kids event. Santa and the store will be back this year on Saturday, Dec. 14, from 10 a.m. to 2 p.m. in the Northwestern Student Center.
The 10th annual Holiday Gift Store for Kids and Photos with Santa event at Northwestern Oklahoma State University is set for Saturday, Dec. 14, from 10 a.m. to 2 p.m. in the Student Center in Alva.
Members of the NWOSU Art Society are now partnering with members of the Delta Zeta sorority to bring this fun event to children and their families in the area.
Delta Zeta will now run the gift store that will continue to provide inexpensive gift items for children to purchase for their loved ones, friends, teachers and even pets. Prices on a variety of merchandise usually range from 50 cents to less than $20.
"Delta Zeta members are not new to helping at the store as they have volunteered with us for several years," Angelia Case, Art Society sponsor, said. "It was only natural for us to ask them if they would like to take over the leadership of the store part of this event while the Art Society members continue to offer Photos with Santa right next door."
Delta Zeta members are thankful for the opportunity and are looking forward to having a larger part in the event.
"Delta Zeta is so excited to be taking on the Christmas store," Jessica Wildman, Pocasset junior serving as Delta Zeta president, said. "We are thankful for the opportunity and hope to see it grow. We are looking forward to this amazing opportunity to provide Christmas to a child's family and to let us continue growing in the community.
"We would like to thank the Art Society for providing us this opportunity and are hopeful to continue to work closely with them in the future," Wildman added.
The social work major added that Delta Zeta members plan to have games for children to play in the Student Center while waiting to enter the store and have photos taken with Santa.
As always, parents and family members are welcome to accompany their children through the store, but they also may watch them from afar if their children want to keep the presents a surprise. Delta Zeta members and other volunteers will help the children shop and stay within their budget. The children will then receive help in getting the gifts wrapped and ready to take home.
Only a few children are allowed in the store at one time to make it a positive experience for everyone.
While children and families are waiting to go in the store, they can take advantage of a visit with Santa Claus and have photos taken with him. Several photos will be taken during visits with Santa and then downloaded to a laptop computer for immediate viewing, Case said. Photos can be selected, and for a flat fee of $5 for each photo chosen, the purchaser will receive the original digital negative file(s).
The club members plan to have three Santa Photo viewing stations to help speed up the selection process. To help even further, those getting photos taken are asked to bring a jump drive so photos can be provided before they leave. Those without a jump drive will have to wait for the files to be emailed to the address they provide on their order form.
"In the past, we've had a handful of emails either bounce back to us with no way for us to get ahold of anyone for an alternate email address, or the messages haven't bounced back to us leading us to believe that all is well only to find out that some never received their photos," Case said. "If you haven't received your photos within a week, please check your spam or junk mail area or let us know."
For more information about the Holiday Store, Photos with Santa, NAS or Delta Zeta in general, or if other members of clubs would like to volunteer their time to help in the store, please contact Case at (580) 327-8577 or arcase@nwosu.edu or Wildman at (405-222-8492) or jawildman09@rangers.nwosu.edu.
-NW-