CPA Van Meter will speak at Northwestern's 119th Spring Commencement on May 5
April 25, 2018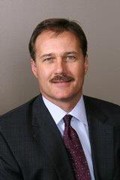 Doug Van Meter
Certified public accountant (CPA) Doug Van Meter, a graduate with the class of 1989, will deliver the address to graduates at Northwestern Oklahoma State University's 119th commencement exercise at 10 a.m., Saturday, May 5, at Ranger Field. In case of inclement weather, commencement will take place in Percefull Fieldhouse.
Van Meter, originally from Enid, earned his Bachelor of Science degree in accounting while at Northwestern and recently was honored by the university as the 2017 Outstanding Graduate in the Business/Professional area. He was a member of the University's football team from 1984-89. He earned his CPA certificate in 1991.
He is a member of BKD National Financial Services Group and is the financial services industry leader for BKD's South Region, which includes Arkansas, Mississippi, Oklahoma and Texas. In this role, he serves on the firm's eight-member financial services committee that sets the practice's strategic direction and growth initiatives.
With more than a quarter century in public accounting, Van Meter currently develops and oversees audit and consulting services in the financial services industry. His experience also includes external audits in relation to the U.S. Securities and Exchange Commission, leading engagements for publicly traded banks and broker-dealers, audit services with banks ranging in size from $40 million to approximately $7 billion and consulting engagements in the merger, acquisition, capital planning, strategic planning and regulatory filing areas.
Van Meter answers inquiries regarding accounting and strategic issues and regularly participates in peer review and internal office inspections with respect to quality control policies, procedures and compliance with the American Institute of CPAs' (AICPA) standards. In addition, he has taught continuing professional education courses for BKD-sponsored events as well as events sponsored by state and federal banking agencies and other organizations.
He is the local office recruiting leader, working hand in hand with the Oklahoma practice's recruiter. He maintains a presence on campus and speaks to students at various universities statewide.
Being a member of the AICPA and Oklahoma Society of CPAs, Van Meter is a supporter of a number of Oklahoma-based not-for-profit organizations and higher education institutions, including Northwestern.
A livestream link for the commencement exercises can be found at http://riderangersride.com/watch.
-NW-
Contact for Release
Erin Davis, University Relations Specialist
eedavis@nwosu.edu; 580-327-8480