Cathy Schmitz selected as Campus Kudos winner for fall 2019
March 12, 2020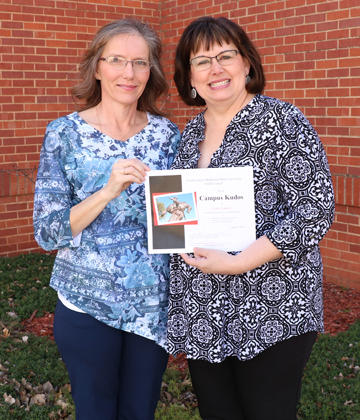 Sue Burks (left) presents Cathy Schmitz with a fall Campus Kudos Award.
Cathy Schmitz, financial aid counselor at Northwestern Oklahoma State University, has been selected by the Staff Council as the recipient of the 2019 fall semester Campus Kudos Award.
Sue Burks, financial aid assistant director and Staff Council chair-elect, presented Schmitz with the Campus Kudos award.
The person nominating Schmitz for this award said, "Cathy has been in the financial aid office since August 2018, and in that time she has helped to bring a new light to the office. She has taken each of the students under her wing to make sure that they are receiving all the financial aid that they are eligible for, and she makes sure that they understand how to navigate the new self-service platform. Cathy will walk the student step-by-step through self-service and ensure that they understand what they are seeing and how to navigate the new financial aid site. Cathy has quickly become a valued member of the financial aid team."
Campus Kudos is a public acknowledgement created by the Northwestern Staff Council that applauds the efforts of eligible staff members who have displayed an act of kindness above their job responsibilities. This award is presented each semester, including the summer term.
"What a nice surprise and honor it is to be chosen for this award," Schmitz said. "Being a small part in our student's success has been very rewarding. Ride, Rangers, Ride!"
-NW-
CONTACT FOR RELEASE
Erin Davis, University Relations Specialist
eedavis@nwosu.edu, 580-327-8480