Career, Internship Fair opportunity set for job seekers Oct. 30
October 25, 2017
---
Employers seeking employees have an opportunity to go right to the source by attending the Fall 2017 Career and Internship Fair at Northwestern Oklahoma State University-Alva on Monday, Oct. 30, in the Student Center Ranger Room from 11 a.m. to 2 p.m.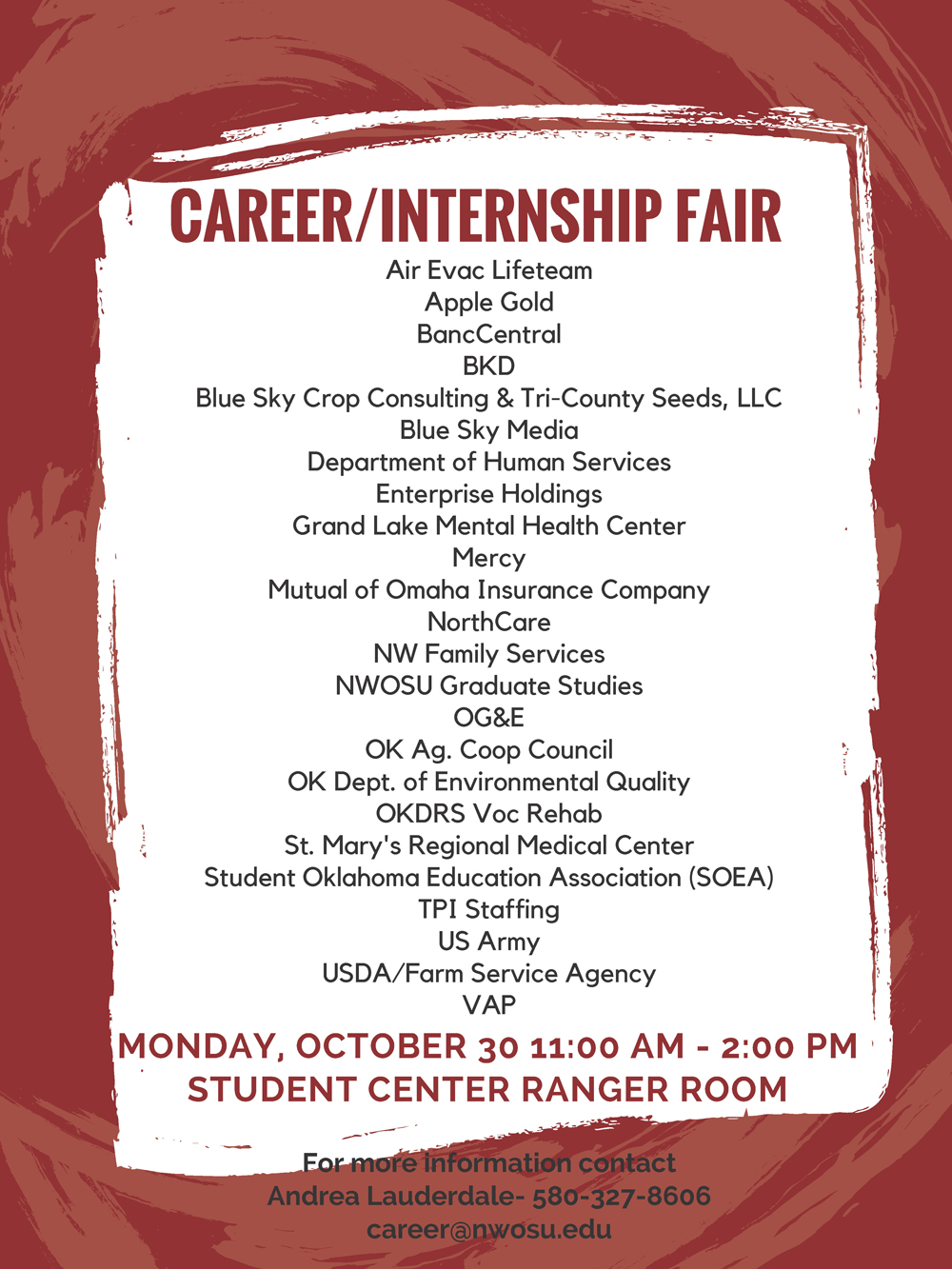 Northwestern students, as well as any job seekers, are welcome to attend the fair and should be prepared to provide copies of resumes and cover letters.
Organizations that will be attending are Air Evac Lifeteam, Apple Gold, BancCentral, Blue Sky Crop Consulting & Tri-County Seeds, LLC; Blue Sky Media, Department of Human Services, Enterprise Holdings, Grand Lake Mental Health Center, Mercy, Mutual of Omaha Insurance Company, NorthCare, NW Family Services, Northwestern Graduate Studies, OG&E, OK Agriculture Coop Council, Oklahoma Department of Environmental Quality, OKDRS Voc Rehab, St. Mary's Regional Medical Center, Student Oklahoma Education Association (SOEA), TPI Staffing, U.S. Army, U.S.D.A. Farm Service Agency and VAP.
Andrea Lauderdale, career services coordinator, also encourages job seekers to dress well and to stop by her office in Fine Arts 142 if they need any help prior to the fair. She also may be reached at amlauderdale@nwosu.edu.
For more information visit www.nwosu.edu/student-services/office-of-career-services.
-NW-
CONTACT FOR RELEASE
Ali Gavitt, University Relations Specialist
apgavitt@nwosu.edu 580-327-8480