Career, Internship Fair opportunity set for job seekers March 11
March 5, 2019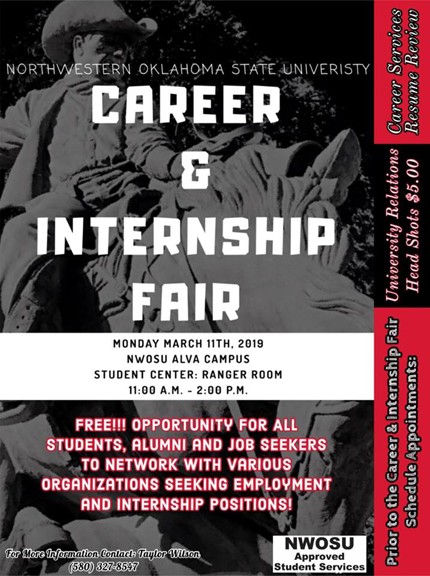 2019 Spring Career/Internship Fair
Employers seeking employees have an opportunity to go right to the source by attending the spring 2019 Career and Internship Fair at Northwestern Oklahoma State University-Alva on Monday, March 11, in the Student Center Ranger Room from 11 a.m. to 2 p.m.
Northwestern students, as well as any job seekers, are welcome to attend the fair and should be prepared to provide copies of resumes and cover letters.
Organizations currently attending are 76 Software Maintenance Group, Azzur Group, BancCentral, Department of Human Services, ENJ Financial, Grants Cibola County Schools, Guadalupe Educational System, Inc., Guymon Public Schools, Oklahoma State University Master of International Agriculture Degree Program, Monarch Air Group, Northwestern Graduate Studies, Paycom, Share Medical Center, St. Mary's Regional Medical Center, Texas A&M University-Commerce, Tulsa Police Department, U.S. Census Bureau, USD 480 Liberal, Vantage Plane Plastics and Western Heights Public Schools.
Taylor Wilson, director of counseling and career services, also encourages job seekers to dress well and to stop by her office in Fine Arts 208 if they need any help prior to the fair. She also may be reached at tawilson@nwosu.edu.
For more information or to schedule an appointment visit www.nwosu.edu/student-services/office-of-career-services.
-NW-
CONTACT FOR RELEASE
Erin Davis, University Relations Specialist
eedavis@nwosu.edu 580-327-8480