Bridger Anderson, Riley Westhaver Qualify for College National Finals Rodeo June 13-19
June 2, 2021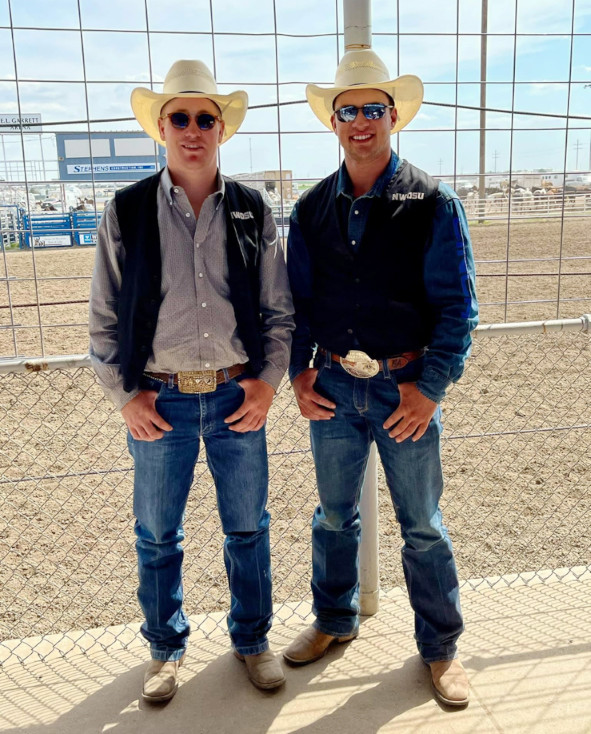 Riley Westhaver and Bridger Anderson will compete for the national championship in steer wrestling at the College National Finals Rodeo in Casper, Wyoming, June 13-19.
(NWOSU Athletics Release)
ALVA, Oklahoma- The Northwestern Oklahoma State University, men's rodeo will compete for a national championship starting on June 13th in the 72nd annual College National Finals Rodeo in Casper, Wyoming. The Rangers have had two members who have qualified for the National Finals.
The qualification process is during each rodeo season; the cowboy or cowgirl accumulates points for each rodeo. Following the season's conclusion, if you have the most points positioning yourself in the top three in points in the region in the respective event, you qualify for the College National Finals.
The Rangers will have two members qualify for the CNFR in steer wrestling, including Riley Westhaver, who finished first in the central plains region, with Bridger Anderson finishing second in the area.
"We are looking forward to the College Finals this year in Casper WY. It been a couple of years since we've been and are glad to be back" stated head coach Stockton Graves.
Anderson has been in rodeo his whole life before strictly competing in steer wrestling in 2013. This is his fourth year at Northwestern after coming here in 2017, and wanting to learn from nationally acclaimed head coach Stockton Graves.
Since being here with the Rangers, Anderson has qualified in the region each season. He went on to win the region once before winning a college title in 2019. He goes into Casper, Wyoming, attempting to take home his second college title in a row.
"I am honored to qualify nationally and represent Northwestern Oklahoma State University at the national level in pursuit to defend my national title with Stockton along with Riley Westhaver. Either way as we try and win or represent Northwestern steer wrestlers, excited to try and bring home the national title. said steer wrestler Bridger Anderson.
The Carrington North Dakota native qualified after a 413-point season which was 75 points higher than the third and final spot.
Westhaver, a native of High River, Alberta, Canada, started competing in rodeo in 11th grade before taking it to the next level here at Northwestern Oklahoma State. He graduated from Northwestern with his bachelor's degree in Agriculture in December 2020. The Canadian native continued his education as he is now going for his master's degree here at Northwestern.
This will be Westhaver's first time qualifying for the CNFR after winning the region in steer wrestling after the nine rodeo season, finishing in first place.

"I am real excited to finally get to qualify for Nationals and get there. Will have the opportunity go out and do our job and see what that brings" stated Riley Westhaver.
The rodeo will be a weeklong event which runs from June 13th through June 19th at the Ford Wyoming Center in Casper, Wyoming.