Basketball scholarship established in memory of Ava Keeney
December 19, 2017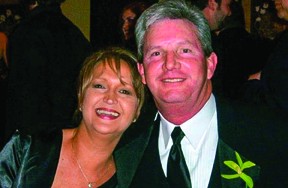 Ava Keeney and her husband Dr. Jim Keeney
---
Northwestern Foundation & Alumni Association Press Release
Dr. Jim Keeney established the Ava Keeney Basketball Scholarship in honor of his late wife to ease the financial burden of college for another Lady Ranger basketball player. Ava married Jim in 1979 and they have two children, Austin and Erin.
Growing up as the youngest child with three older brothers helped make Ava Jo (Thompson) Keeney an athlete. In 1988, Ava enrolled at Northwestern and was soon asked to join the Lady Rangers Basketball team at the age of 29. After graduating from Northwestern in 1990, she spent the next 25 years managing her husband's chiropractic clinic.
Ava was a remarkable athlete, devoted wife and mother, and a devout Catholic. She valued family and friends above all else and traveled across the country to watch Austin's and Erin's college basketball games.
Sadly, Ava lost a 16-month battle with cancer on September 21, 2015, at the age of 56; however, her fighting spirit will be kept alive with the Ava Keeney Basketball Scholarship.
"It is a privilege for the Northwestern Foundation & Alumni Association to perpetuate the memory and legacy of Ava Keeney with this generous scholarship," said Skeeter Bird, CEO, Northwestern Foundation & Alumni Association. "This scholarship is a fantastic boost for our thriving women's basketball program. The entire Keeney family has been both a huge fan and supporter of Northwestern – especially Northwestern Athletics – for decades. We are grateful they have chosen to honor their loved one with this scholarship."
Full-time continuing students and member of the Northwestern Oklahoma State University women's basketball team, with a minimum 2.5 cumulative grade point average, are eligible to receive the Ava Keeney Basketball Scholarship. The scholarship may be awarded to one or more recipients to allow for maximum usage of scholarship funds and will be selected by the Northwestern Department of Athletics. The scholarship may be applied toward university-related expenses, including tuition, fees, books and room and board.
For more information on the Ava Keeney Basketball Scholarship, or about investing in Northwestern students, call Bird at 580-327-8593 or email him at aebird@nwosu.edu.
###
CONTACT FOR RELEASE
Leslie Nation, Marketing & Communications Manager
Northwestern Foundation & Alumni Association
(580) 327-8598, lnnation@nwosu.edu