Bands participating in Northwestern's homecoming activities on Sept. 30
September 27, 2017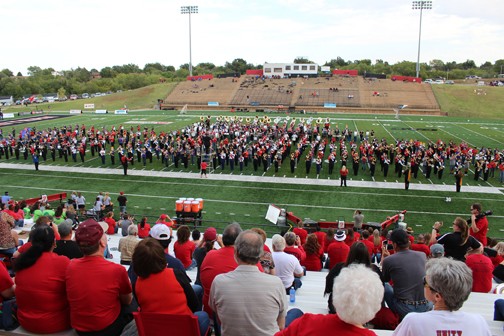 Last year Northwestern had 17 bands participate in the Northwestern Massed Bands performance before the homecoming football game. This year Northwestern is anticipating nearly 1,000 band members to participate in the performance on Ranger Field at 3:30 p
---
Nearly 1,000 students in bands from across Oklahoma and Kansas will join the Ranger Marching Band by participating in Northwestern Oklahoma State University's homecoming festivities set for Saturday, Sept. 30.
Eighteen bands will march around Alva's downtown square during Northwestern's Homecoming parade at 10 a.m. on Saturday, and 21 bands are set to participate in the Massed Bands performance at 3:30 p.m. during pre-game of Saturday's football game vs. Southeastern Oklahoma State University set to kickoff at 4 p.m.
Twenty-six alumni registered to provide music and entertainment as an Alumni Band during the first half of the homecoming football game. This year Joshua Faulkner will direct the Alumni Band. Rehearsal starts at 2 p.m. in the band room. Alumni can register to participate at https://my.nwfoundation.com/alumniband.
Those bands scheduled to march in the parade, their directors and classifications include:
Junior High – Blackwell Middle School, J. Wayne Hudson; Pioneer-Pleasant Vale Junior High, Sherri Lohmann; Southwestern Heights Junior High (Kismet, Kansas), Erika Clausing
Class 2A – Pioneer-Pleasant Vale High School, Sherri Lohmann; Cimarron High School, Adam Steuart; Garber High School, Jackson Anderson; Laverne High School, Hank Nichols; Ringwood High School, Kyle Stewart; Seiling High School, Danny Powers; Waukomis High School, Sean Newman; Waynoka High School, Erin Place; Turpin High School, Phil Burns
Class 3A – Alva High School, Kyle Price; Chisholm High School, Randy Johnson; Fairview High School, Craig Krieger
Class 4A – Hugoton High School (Hugoton, Kansas), Amy Freeman; Kingfisher High School, Mandy Owens
Class 5A – Woodward High School, Daci Crockett
There will be an awards ceremony for the bands immediately following the parade at the band shell in Alva's Downtown Square. After the awards ceremony, the bands will travel to the football stadium to rehearse for the Massed Band performance.
Four other bands will join with those mentioned above to participate in the Massed Band performance including Burlington High School with director Isi Ofiu; Chisholm Middle School, Richard Stallcup; Newkirk High School, Joshua Faulkner; and Perkins-Tryon High School, ?Pam Cartmell.
Six of the directors leading their bands in the parade and/or taking part in the Massed Band are Northwestern alumni. They include Ofiu, class of 2016; Faulkner, class of 2015; Steuart, class of 2007; Crockett, class of 2004; Freeman, class of 2001; and Lohmann, class of 2000.
Northwestern's Homecoming Parade competition and Massed Band performance are made possible by a generous donation from the Charles Morton Share Trust. In addition, the new convenience store in Alva, Shepherd Oil, has made a generous donation to help offset travel costs of the visiting bands. The Ranger Band and all the participating students wish to thank these donors for their support.
To see more information about Northwestern's Homecoming events, please visit www.nwosu.edu/homecoming.
-NW-
CONTACT FOR RELEASE
Ali Gavitt, University Relations Specialist
apgavitt@nwosu.edu, 580-327-8480