Bands participating in Northwestern's homecoming activities on Oct. 26
October 9, 2019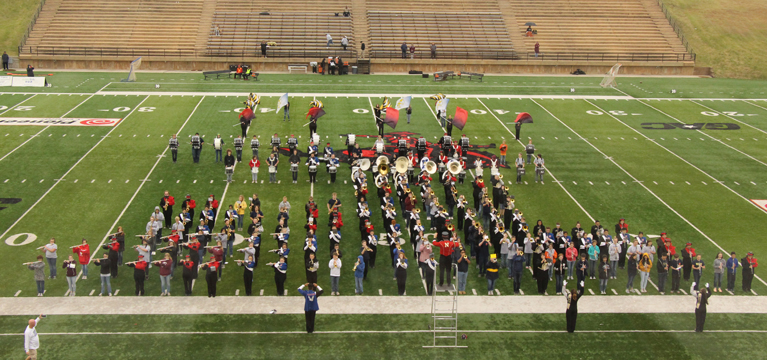 2018 Massed Bands Performance
---
Nearly 600 students in bands from across Oklahoma and Kansas will join the Ranger Marching Band by participating in Northwestern Oklahoma State University's homecoming festivities set for Saturday, Oct. 26.
Twelve bands will march around Alva's downtown square during Northwestern's Homecoming parade at 10 a.m. on Saturday, and eight bands are set to participate in the Massed Bands performance at 3:30 p.m. during pre-game of Saturday's football game vs. Harding University set to kickoff at 4 p.m.
Alumni are registered to provide music and entertainment as an Alumni Band during the first half of the homecoming football game. This year A.J. Bohlmann will direct the Alumni Band. Rehearsal starts at 2 p.m. in the band room. Alumni can register to participate at https://my.nwfoundation.com/alumniband.
Those bands scheduled to march in the parade, their directors and classifications include:
Junior High – Blackwell Middle School, J. Wayne Hudson; Chisholm Middle School, Richard Stallcup; Pioneer-Pleasant Vale Junior High, Sherri Lohmann; Southwestern Heights Junior High (Kismet, Kansas), Erika Clausing
Class 2A – Burlington Public School, Isileli Ofiu; Cimarron High School, Kathy Jantz; Covington-Douglas High School, Elaine Vardeman; Laverne High School, Hank Nichols; Pioneer-Pleasant Vale High School, Sherri Lohmann; Vici High School, Keegan Trimble
Class 3A – Alva High School, Adam Steuart; Chisholm High School, Randy Johnson; Hugoton High School (Hugoton, Kansas), Amy Freeman
There will be an awards ceremony for the bands immediately following the parade at the band shell in Alva's Downtown Square. After the awards ceremony, the bands will travel to the football stadium to rehearse for the Massed Band performance.
Four of the directors leading their bands in the parade are Northwestern alumni. They include Steuart, class of 2007; Freeman, class of 2001; Ofiu, class of 2016; and Lohmann, class of 2000.
Northwestern's Homecoming Parade competition and Massed Band performance are made possible by a generous donation from the Charles Morton Share Trust. The Ranger Band and all the participating students wish to thank the donors for their support.
To see more information about Northwestern's Homecoming events, please visit www.nwosu.edu/homecoming.
-NW-
CONTACT FOR RELEASE
Erin Davis, University Relations Specialist
eedavis@nwosu.edu, 580-327-8480