Freshman Orientation
FRESHMAN ORIENTATION 2019 - Saturday, Aug. 17, 2019
Attendance is required for all incoming freshmen!
---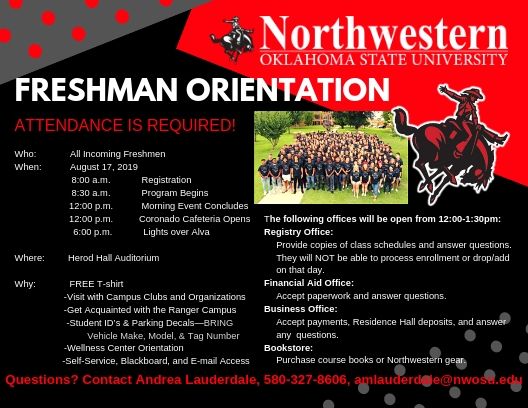 PERKS OF ATTENDING
Free T-shirt
Visit with campus clubs and organizations
Get acquainted with the Ranger campus and students
Student IDs and Parking decals -- Bring vehicle make, model and tag number
Wellness Center orientation
RangerNet, Blackboard and Email access
Publicity photo taken to send to your hometown
Large photo of Freshman class taken to end the day!
The following offices will be open Saturday from Noon to 1:30PM during orientation:
Registry Office: Provide copies of class schedules and answer questions. They will NOT be able to process enrollments or drop/add on that day.
Financial Aid Office: Accept paperwork and answer questions.
Business Office: Accept payments, Residence Hall deposits, and answer any questions.
Bookstore: Purchase course books or Northwestern gear.
---
DON'T FORGET!
Residence Halls open on Thursday prior to first day of school
AND
Fall semester classes begin Aug. 19, 2019
RIDE, RANGERS, RIDE!
​
Herod Hall Auditorium
---

ORIENTATION SCHEDULE
8:00 a.m. -- Registration
8:30 a.m. -- Program begins
Noon -- Morning event concludes
Noon -- Coronado Cafeteria opens
6:00 - Lights Over Alva
---

Questions?
Andrea Lauderdale
Coordinator of Student Services and Transfer Recruiter (580) 327-8606
amlauderdale@nwosu.edu