Pumpkin Decorating Contest - Enid Campus
Starts: Oct 19, 2021 08:00 AM
Ends: Oct 25, 2021 05:00 PM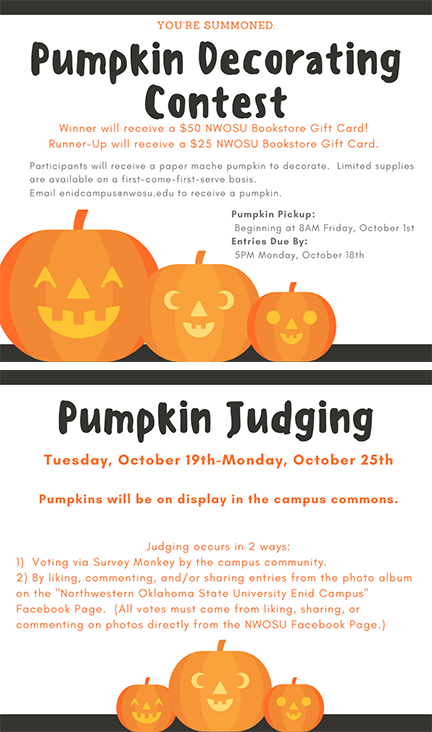 Winner receives a $50 NWOSU Bookstore Gift card. Runner-up receives a $25 NWOSU Bookstore Gift Card.
Participants will receive a paper mache pumpkin to decorate. Limited supplies are available on a first-come-first-serve basis. Email enidcampus@nwosu.edu to receive a pumpkin.
Pumpkin Pickup: Begins at 8AM on Friday, October 1st. Entries are due by: 5 PM on Monday, October 18th. Pumpkins will be on display in the Enid Campus Commons.
Judging occurs 2 ways from Tuesday, October 19th-Monday, October 25th. 1) Voting via Survey Monkey by the campus community. 2) By liking, commenting, and/or sharing entries from the photo album on the "Northwestern Oklahoma State University Enid Campus" Facebook Page. (All votes must come from liking, sharing, or commenting on photos directly from the NWOSU Facebook Page.)
No charge to enter a pumpkin.
Contact Name:
Tiffany Misak

Contact E-Mail Address:
enidcampus@nwosu.edu

Contact Phone Number:
5802133102

Name of Sponsoring Organization:
Student Services