Woods County Retired Educators Association Scholarship Awarded to Northwestern Senior
August 28, 2019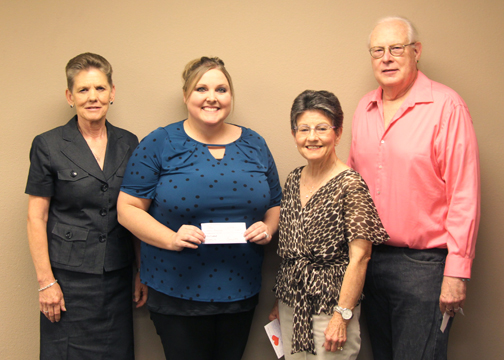 Dr. Christee Jenlink (left) and Woods County Retired Educators Association representatives Barbara Case and Lenny Reed (right) present Northwestern education senior Kelcie Hainley with a scholarship.
---
Northwestern Oklahoma State University elementary education senior Kelcie Hainley has been selected to receive a $300 scholarship from the Woods County Retired Educators Association.
Hainley, of Fairview, will be honored during the WCREA's business meeting at the Alva Public Library on Thursday, Sept. 19.
"Receiving the scholarship from the WCREA means a lot to me," Hainley said. "I appreciate that others understand the struggles some nontraditional students go through when trying to complete a degree. With the help from family and friends that have been my support system and with the help of organizations such as the WCREA, who support future teachers, I will finally graduate in December."
Hainley said she has wanted to be an educator since 2003. She has plans after graduation to become an elementary education teacher for Enid Public Schools.
"This award by the WCREA is especially important in this time in which there is a severe teacher shortage," said Dr. Christee Jenlink, professor of education and associate dean for the School of Education. "The association members understand the academic, personal, and financial challenges of completing a teacher preparation program. This is particularly true with Kelcie. Her sacrifices, along with those of her family, have enabled her to complete a bachelor's degree and make me realize what an awesome responsibility we as an institution and as a faculty have to support her and her classmates. The WCREA is to be commended for its ongoing commitment to Northwestern and the teaching profession."
The WCREA works with the National Retired Educators Association, Oklahoma Retired Educators Association and the American Association of Retired Persons to encourage its members to maintain educational and community activities. Membership is open to all educators and support personnel who have retired under the Oklahoma Teachers Retirement Act and any other retired person interested in the purpose of the organization.
WCREA brings information to members concerning available offered services and pre-retirement education through OREA. The association also studies retired educator's needs by cooperating with the state legislature committees with information for members by organizing and promoting periodic contacts with state legislators.
For more information on the WCREA contact Barbara Case at (580) 327-0753 or caseb1118@sbcglobal.net.
-NW-
CONTACT FOR RELEASE
Erin Davis, University Relations Specialist
580-327-8480, eedavis@nwosu.edu