Two Northwestern faculty members earn doctorates
July 25, 2018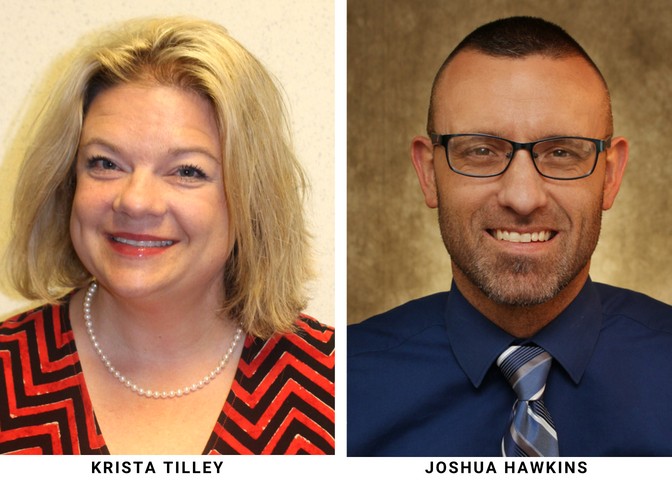 Northwestern Oklahoma State University faculty members, Krista Tilley (left) and Joshua Hawkins (right) recently earned their doctoral degrees.
Two Northwestern Oklahoma State University faculty members, Krista Tilley, assistant professor of nursing, and Joshua Hawkins, assistant professor of education, recently earned their doctoral degrees.
Tilley earned a Doctor of Nursing Practice degree in nursing administration with an educator concentration in August 2017 from Samford University in Birmingham, Ala.
Hawkins earned a Doctor of Philosophy degree in educational psychology in December 2017 from Oklahoma State University in Stillwater.
Tilley's dissertation is titled "Transition-to-Practice Nurse Residency Program: A Gap Analysis." Her research focused on new graduate nurse retention. Tilley explained research has shown that new nurses leave organizations between 18 and 24 months due to multiple factors. When new graduates leave prematurely, this impacts the new nurse and the organization.
Tilley performed a gap analysis for a hospital comparing the organization's nurse residency program to the accredited American Nurses Credentialing Center Practice Transition Accreditation Program. The accredited model focuses on areas that have been proven to retain new graduate nurses, and uses Patricia Benner's novice-to-expert theory to guide the stressful transition that new graduate nurses experience. Many organizations have residency programs, but few are accredited. Tilley said her research opened her eyes to specific components necessary for nurse residency programs to be successful, ultimately increasing retention of new graduate nurses.
"When I graduated nursing school 21 years ago, I was a part of a brand new nurse residency program, that impacted me positively as a nurse," Tilley said. "It was at Central Washington Hospital in Wenatchee, Wash. The program focused on areas that new nurses need to feel comfortable in order to be successful in the profession of nursing.
"It was neat to remember my experience as a new nurse, and then compare it to the accredited model as well."
Tilley is an Eastern Washington University graduate who earned a Master of Science degree from the University of Oklahoma. Prior to joining Northwestern's nursing faculty in 2014, she served as the Ketterman Lab Coordinator at Northwestern's division of nursing. As a Northwestern assistant professor of nursing, she teaches courses in mental health, community in nursing and role transition. She has nursing experience in orthopedics, obstetrics, post-surgical, cardiac, medical/surgery and home health and hospice.
Hawkins' dissertation is titled "Figuring it Out: A Qualitative Case Study Exploring the Development of Novice, Alternatively Certified Special Educators in Oklahoma." He explained teacher support (environmental and personal) and systematic professional development are critical factors determining the likelihood of retention.
Hawkins said he was interested in how novice, alternatively certified special education teachers (a particularly at-risk for attrition group) in Oklahoma perceived their development and if these factors contributed to their intention to continue in the profession. He said he found that despite the evident lack of systematic support, my participants were "figuring it out." That is, they were finding ways to overcome their professional deficits despite the evident lack of intentional and systematic support.
Hawkins said the point of intention for development was found to rest primarily with the participants. He said key formative experiences occurring before or during development were found to be influential in shaping participants' perspectives and practice. Hawkins explained that relatedness, competence development, developmental awareness, professional identity formation, and growth orientation were recognized as integral emergent features. He said an underlying sense of "care" emerged and appeared fundamental to participants' motivation and perceptions' of their experiences as novice teachers, the nature of their roles, and, ultimately, their commitment. The organic quality of development and the need for individualization of support are discussed.
"It was, of course, satisfying to complete a project representing the culmination of four years of intense work," Hawkins said. "The process was enjoyable and growth inducing. Further, I had excellent academic and personal support.
"Ultimately, however, the finishing was valuable in that it allows me to continue to do the work I most enjoy—teaching and helping teachers."
Hawkins is a Southwestern Oklahoma State University graduate who earned a Master of Educational Leadership degree from Southwestern as well. Prior to joining Northwestern's education faculty in 2015, he worked as a public school teacher and administrator. As a Northwestern assistant professor of education, he teaches courses in special education, educational psychology and leadership.
-NW-
CONTACT FOR RELEASE
Erin Davis, University Relations Specialist
(580) 327-8480, eedavis@nwosu.edu