Tuba players to perform Christmas carols for public Dec. 9
December 3, 2019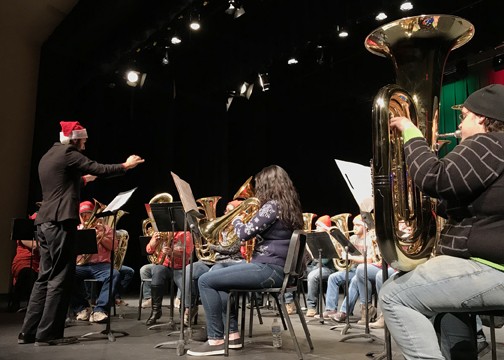 A number of tuba players will come together at Northwestern on Dec. 9 to present Holiday Tubas at 6 p.m. in Herod Hall Auditorium.
Tuba players of all skills and ages will perform multiple Christmas carols for the annual Holiday Tubas event on Dec. 9 in Herod Hall Auditorium on the Alva campus of Northwestern Oklahoma State University. The doors will open at 5:30 p.m. for a 6 p.m. start and is free for any and all who would like to attend.
Although numbers are not yet confirmed as to how many performers will be playing tubas on stage, Seth Cudd, instructor of music and director of bands at Northwestern, said that he already anticipates at least 20 tuba players, including Northwestern students, Northwestern alumni, community members and high school students. Rehearsal will begin at 3:30 p.m. prior to the concert.
"It's a lot of fun because Holiday Tubas is really so open to anyone who wants to come out and play their tuba," Cudd said. "If they are a more advanced player we might give them more difficult parts, if they are a beginner then they might get simpler parts, but it's really cool just seeing how they all come together to create one concert."
Cudd said that a lot of the pieces that will be played are from last year's song list, though a few new titles have been added. Among those pieces to be performed by the tuba players include such songs as "While Shepherds Watched," "While by My Sheep," "Away in A Manger," "Hark! The Herald Angels Sing," "What Child is This," "God Rest Ye Merry Gentlemen," "Crown of Roses," "Champions Sing Loudly," "Santa Claus is Coming to Town," "Have Yourself a Merry Christmas," "I'm Getting Nothing For Christmas," "Frosty the Snowman," "I'll Be Home for Christmas," "Angels We Have Heard on High," "Joy to the World" and "We Wish You a Merry Christmas."
Despite the long list of music to perform, the various skill levels and the unconfirmed number of tuba players until the time of practicing before the performance, Cudd said that Holiday Tubas has come together smoothly in the past and has seemed to be an enchanting experience that gets everyone in the Christmas spirit from the audience members to the tuba players.
"I just would encourage everyone to come out and enjoy some good Christmas music put on by some really good tuba players," Cudd said. "It's free, it's a lot of fun, and it's great just to be able to perform for our community and get into the Christmas spirit."
If interested in performing at Holiday Tubas or for more information about the event or the band program at Northwestern, contact Cudd at (580) 327-8191 or mscudd@nwosu.edu.
-NW-