Scarbrough Attends Nigh Leadership Academy
May 16, 2023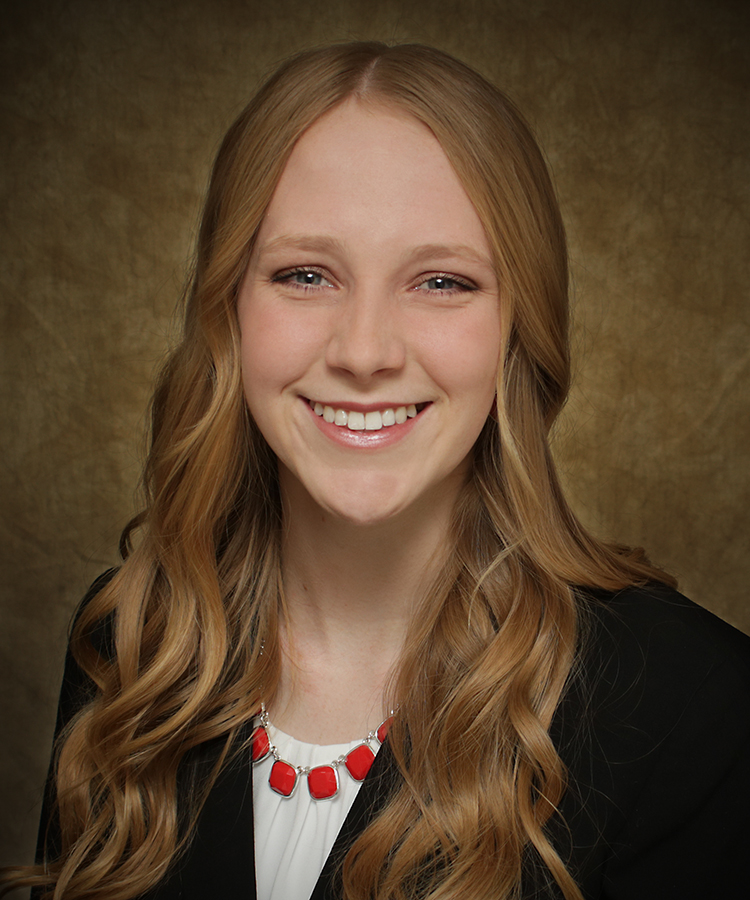 Gracie Scarbrough, a May business administration graduate at Northwestern Oklahoma State University, recently attended the Nigh Institute Leadership Academy held in Oklahoma City.
The Alva native joined college students from across the state for the four-day academy early in the spring semester. Over the course of the event, Scarbrough and her peers volunteered at the Oklahoma Regional Food Bank, enjoyed an Oklahoma City Thunder basketball game, toured the Oklahoma City National Memorial and the First Americans Museum.
Scarbrough said the entire academy was packed with fun and eye-opening experiences.
"My favorite venture was getting to visit Express Ranches owned by Bob Funk," Scarbrough said. "We were able to see his famous Clydesdale horses that recently returned from pulling a float in the Rose Parade in Pasadena, California, and we got to tour the immaculate stables in which the horses are housed and other parts of the ranch.
"Later, we had the opportunity to have dinner at Mr. Funk's house with former Oklahoma Gov. George Nigh and his wife Donna. They were both so kind to share with us about their experiences in public office. Their passion for serving Oklahomans was very evident!"
Students listened to presentations by Oklahoma State Regents for Higher Education (OSRHE) Chancellor Dr. Allison Garrett, Executive Director of the Association of Oklahoma General Contractors Bobby Stem and the Nighs.
The Nigh Academy was centered around developing an understanding of public service in Oklahoma and how individual and professional goals can be achieved.
"This experience will help me as I seek to begin a career in the business world because it gave me insight into what effective leadership truly looks like," Scarbrough said. "I was able to meet and hear from many fellow Oklahomans who spent their lives building successful careers while serving the public interest in one way or another.
"The opportunities to network helped me create relationships with other student-leaders planning to stay in Oklahoma after graduating from college. I also was able to gain advice from leaders in higher education, from people serving in public office, and from businessmen and women within Oklahoma."
The George and Donna Nigh Public Service Scholarship was established on April 19, 1999, by the Oklahoma State Legislature and former Gov. Frank Keating. The purpose of this scholarship is to allow all of the two- and four-year higher educational institutions, both public and private, to select and honor one student each year as a Nigh Scholar. Each student is selected and nominated by their institution's president and receives a one-time $1,000 Leadership Scholarship.
This academy is supported by the Oklahoma State Regents for Higher Education, which contracts with the Nigh Leadership Academy for implementation. During the history of the academy, more than 600 students have been awarded the title of Nigh Scholar.
Scarbrough said she was excited to learn that all of the students in attendance had so much in common, despite the fact that each served as a representative for one of 25 different institutions of higher education from across the state.
"Many different academic majors, cultural backgrounds, geographic locations and personal interests were represented within our group, but we were able to bond with each other over common experiences we had as students, and as individuals who care about higher education in Oklahoma," Scarbrough said.
-NW-
CONTACT FOR RELEASE
Erin Davis, University Relations Specialist
eedavis@nwosu.edu; 580-327-8480