Sacket earns campus deSERVING Ranger Award; Service to others is lifetime goal
May 14, 2020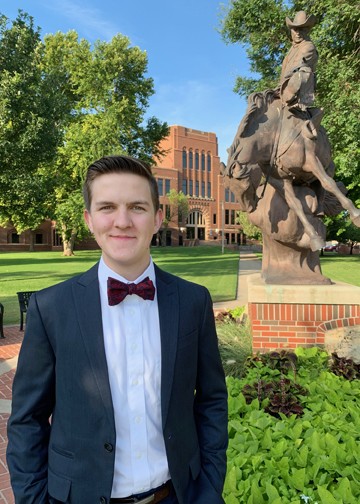 Ethan Sacket is the recipient of the Northwestern deSERVING Ranger Award. He spends countless hours volunteering his time, and taking on various leadership roles.
Service - an act of helpful activity; to help or aid others.
Volunteer - a person who performs a service willingly and without pay.
Leader – a person who leads.
These three terms personify Ethan Sacket, a senior business administration major at Northwestern Oklahoma State University who has been honored with this year's deSERVING Ranger Award from the Service Learning and Civic Engagement (SL/CE) program.
Kaylyn Hansen, director of assessment and institutional effectiveness who also leads the service learning and civic engagement program, said each spring the award recognizes an outstanding Northwestern student who demonstrates the following :
Dedication to service and a sense of responsibility to the Northwestern service learning and civic engagement vision;
Serves as a community service model for other students;
Exceptional leadership and organizational skills; and,
Consistent work ethic and availability.
Sacket's list of volunteer opportunities indicates nearly 40 worthy causes that have generated 576 hours of his time. A few of these activities include being Northwestern's Camp Ranger Coordinator, speaking on behalf of Northwestern at a state regents meeting, tutoring in Coronado Hall, painting crosswalks in downtown Alva, being a weekly elementary school mentor, helping with numerous Alva Chamber of Commerce activities, and serving in various capacities in the local nursing homes and retirement communities.
Deciding which volunteer opportunity is his favorite is hard for the Aline native as he said anytime he's helping others is when he's truly happiest; however, serving on the Thank-a-Thon Leadership Team to help the Northwestern Foundation and Alumni Association plan and implement an event for university students to thank monetary donors of the university has been a wonderful experience.
"I believe the daily practice of gratitude is essential in the development of a positive mindset," Sacket said. "We are stronger together, and seeing hundreds of students come together within two days to show gratitude to those who support NWOSU students is truly a unique experience."
None of these volunteer hours indicate the time he spends working with the Northwestern Student Government Association, an organization he's been involved in since being a senator his freshman year. He was the SGA treasure his sophomore year, spent this last school term as vice president, and for the 2020-21 school year, he will serve the students as president, which he said is "the pinnacle of my service experience at this fine university."
Sackett said that SGA provides one of the best opportunities at Northwestern to serve the students, Northwestern and the community, and since his time at the university is drawing nearer, he wants to maximize it.
To do that, he and the other newly elected officers -- Dawson Maxwell, Perry sophomore majoring in criminal justice, vice president; Dacoda McDowell-Wahpekeche, Newalla freshman majoring in mass communication, secretary; and Yosbelli Lora, Ringwood junior majoring in psychology, treasurer – came up with ideas and various goals for the next school year via Zoom meetings when COVID-19 altered life on campus.
Sacket said he establishes S.M.A.R.T. goals [specific, measurable, achievable, relevant, time-bound] in his life so he has been working with his team to create individual goals for each of the categories within SGA. He wants to make decisions now that will have a lasting impact on Northwestern students in the next five to 10 years to help improve campus life long-term.
New, specialized leadership roles and committees have been developed to focus on central areas of improvement, such as civic engagement, sustainability and mental health.
If volunteering, Northwestern activities and going to classes to earn a degree aren't enough to keep Sacket busy, he said he always had a dream to serve as a state officer in an organization.
That dream became a reality in March when he was elected to serve as the Oklahoma Student Government Association North Regional Director where in that role he plans to visit each of the more than 20 higher education institutions in the north region during his year of service. He, along with other members of the board of directors, will answer the call of the Chancellor of Higher Education to provide informal advice and to make presentations at public hearings, legislative meetings and other engagements.
He also will serve as a representative from a public four-year institution on the Oklahoma Student Advisory Board to the Oklahoma State Regents for Higher Education.
Why does Sacket continue to seek leadership roles? To volunteer his time? It all goes back to maximizing the time he has in life.
"Leadership opportunities are an amazing avenue by which to meet new people and add value to others. By helping others hone in on their leadership skills, a lasting legacy develops for all."
And, as for volunteering his time, he recalls the servant-minded individuals he has had as role models all of his life and spoke of a conversation he had with his grandmother during a late-night game of Canasta as she reminisced on past experiences and discussed what she believed is the purpose of life.
"She said that in the end, the main things that matter are our spiritual relationships and how we help others in the opportunities in which God places us. It was evident that serving others has been at the forefront of our family life. As a result, I have been motivated to see how many I can help even in the smallest way during my lifetime."
-NW-