Ranger Preview brings in more than 500 high school seniors; five students win additional scholarships
November 8, 2017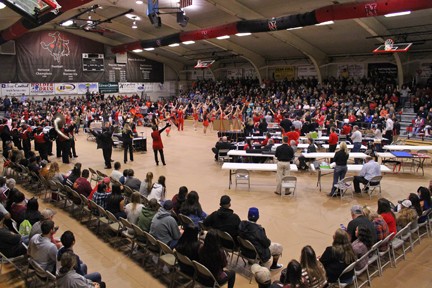 Ranger Preview: Northwestern Oklahoma State University brings in more than 500 high school seniors who all receive a $600 scholarship for attending and bring their families to tour the Northwestern-Alva campus and visit with faculty, staff and more.
---
Hundreds of high school seniors participated in Northwestern Oklahoma State University's annual Ranger Preview at the Alva campus, Saturday, Nov. 4.
This event provided the opportunity for 514 high school seniors and their families to visit the Northwestern-Alva campus and visit with faculty, staff and current students. Ranger Preview is a fun and informative event that showcases the ample opportunities Northwestern has to offer a potential student. Any high school senior who attended Ranger Preview, is admitted to Northwestern as a full-time student, and will live in Alva during the academic year, received a $600 scholarship.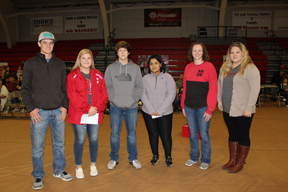 Students who won additional scholarships at Northwestern's Ranger Preview are (left to right) Kade Leonard of Chelsea ($250 scholarship); Kyla Weaver of Fort Cobb ($500 scholarship); Jordan Hall of Buffalo ($250 scholarship); Laura Garcia of Enid ($250 scholarship); with Community Bank representatives Megan Schulze and Lisa Kohlmeier. Not pictured is $250 scholarship recipient Mason Jones of Skyline High School.
"This year's Ranger Preview brought in prospective students from across the United States," Paige Fischer, director of recruitment, said. "The support we received from the community of Alva was unprecedented, and this was noticed by the number of giveaways and discounts offered to Ranger Preview attendees. One lucky senior even won with a 40" full HDTV – thanks to Kindsey Ely and ENJ Financial. I cannot offer enough 'thank yous' to Community Bank of Alva, Northwestern faculty, staff and administration, and our Northwestern Scholar Ambassadors.
"Northwestern is fortunate to be able to host an event of this magnitude to benefit seniors with a $600 scholarship and numerous other incentives. I look forward to seeing these seniors back on campus in the fall as new college freshmen!"
The events for the day included registration, campus tours and a welcome from President Janet Cunningham, along with a few words from Miss Northwestern Macie Malone and Calleb Mosburg, dean of student affairs and enrollment management. Those in attendance also were treated to performances from Northwestern's band, University Singers and the Ranger Cheer Squad.
Each high school senior who attended also received a Northwestern t-shirt, free tickets to the football game that day, and lunch in Coronado Cafeteria. Their $15 college application fees were waived as well, courtesy of Community Bank. The students received goodie bags that were filled with a wide variety of items. Everything was donated by businesses in the Alva community. Many area businesses also offered additional discounts on the day of the event if students showed their Ranger Preview wristbands at check-out.
Fischer also gave praise to her staff for their part in making this day successful.
"We set our goals high for this year's Ranger Preview, and I commend the hard work of Ben Eastes, Haylee Bates, Olivia Yandel, Andrea Lauderdale, and Jenny Redinger in reaching those goals. I am grateful for each of them and all they do for this university."
Five students were awarded additional scholarships provided by Community Bank. The four $250 scholarship recipients are Mason Jones of Skyline High School, Laura Garcia of Enid High School, Jordan Hall of Buffalo High School, and Kade Leonard of Sequoyah High School. A $500 scholarship was awarded to Kyla Weaver from Carnegie High School.
"I am proud to say this year's event turned out the largest attendance in its history," Calleb Mosburg, dean of student affairs and enrollment management, said. "The Recruitment Office has done an outstanding job in preparation for this event and helping to make Northwestern a potential choice for many students. I also want to commend the Fine Arts Department and the Athletics Department for having positive numbers arrive for the event. This event is truly a TEAM effort, and I greatly appreciate the faculty and current students who were there to meet these future Rangers."
For more information on Northwestern's Ranger Preview event or how to become a Ranger, contact Fischer at (580) 327-8545 or plfischer@nwosu.edu.
For more information on Northwestern degree programs and scholarship opportunities visit www.nwosu.edu.
-NW-
CONTACT FOR RELEASE
Ali Gavitt, University Relations Specialist
apgavitt@nwosu.edu, 580-327-8480