October Artist-in-Residence to have art exhibition on campus, Graceful Arts Center
October 25, 2018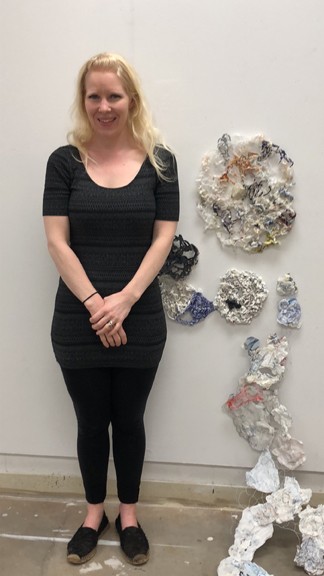 Natana Rose, the October Artist-in-Residence at Northwestern, will be showing her artwork on campus in Jesse Dunn Annex 323 Nov. 1 and in downtown Alva at the Graceful Arts Center Nov. 2 during the First Friday Artwalk.
Northwestern Oklahoma State University Visual Arts Program's current Artist-in-Residence is Natana Rose. This Sacramento, California, native plans to have an exhibition of her artwork on Thursday, Nov. 1, from 3-7 p.m. in Jesse Dunn Annex, room 323. She also will have her small works exhibit at Graceful Arts Center Friday, Nov.2, from 6-8 p.m. during the First Friday Art Walk. These events are free and open to the public.
Rose did an artist talk and workshop on Wednesday, Oct. 24, at Northwestern. Kyle Larson, assistant professor of art, said Rose shared about her work and its evolution during her talk. He said the workshop involved creating wearable sculpture/costumes out of found or discarded materials.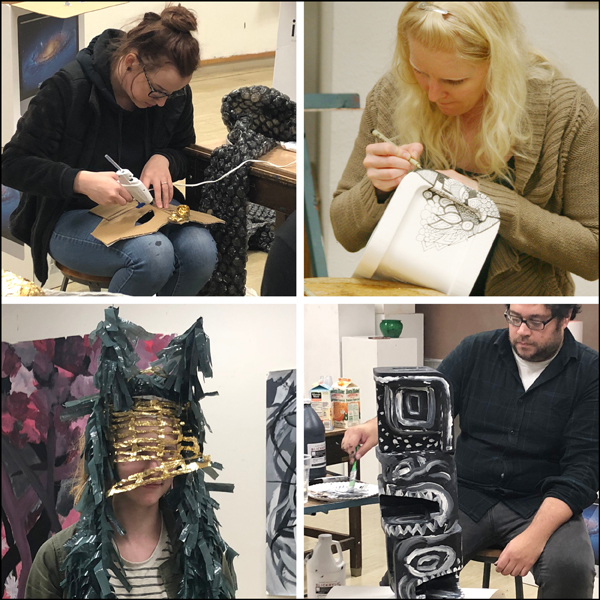 Artistic creations of wearable sculpture or costumes from found or discarded items were created during Artist-in-Residence Natana Rose's workshop Wednesday. Clockwise from top left: Sarah Noland, Carmen junior; Rose; Kyle Larson, assistant professor of art at Northwestern; and Rachel Davis, Kingston senior.
Rose said her work for this residency has consisted of film plastic, a new medium for her.
"I'm exploring how they work as a medium," Rose said. "I'm playing a little bit with harder plastics like water bottles and stuff like that, but those are more challenging, so I thought I'd be easy on myself."
Rose said even though her work will primarily consist of plastic during the campus exhibition, she will be showing some in panels with a little bit of painting at the Graceful Arts exhibition.
Rose lives and works in Sacramento and also attended California State University, Sacramento, where she earned her master's degree in painting.
Rose said she does art whether she's inspired or not. To her, it's like breathing, and she does it no matter what; however, there are a couple of factors that do inspire her art.
"In terms of inspiration, currently, the state of our environment is something that drives me forward and also just how we handle our consumerist habits and the changes that can be made in that," she said. "Those are both inspirational to me."
Rose said she has enjoyed her time in the Artist-in-Residence program and hopes to take part in more in the future.
For more information about the Artist-in-Residence program contact Larson at (580) 327-8108 or krlarson@nwosu.edu.
-NW-