November Artist-In-Residence Christina Aria's 'oil consumption' artwork to be displayed at Northwestern-Alva Dec. 1
November 30, 2017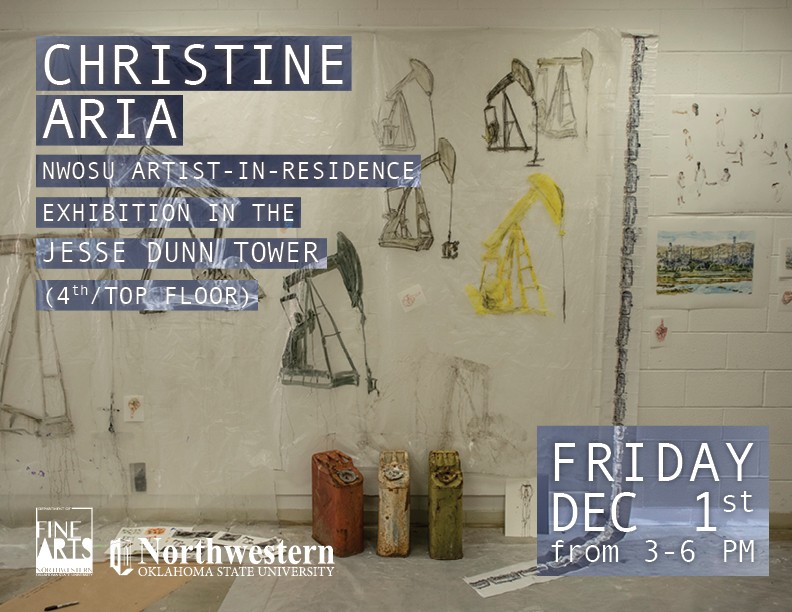 The local community and Northwestern students and employees can take a trek up to the Jesse Dunn Tower to see the Visual Arts program's November Artist-in-Residence Christine Aria's culminating exhibition Friday, Dec. 1, from 3-6pm
---
The local community and Northwestern Oklahoma State University students and employees can take a trek up to the Jesse Dunn Tower to see the Visual Arts program's November Artist-in-Residence Christine Aria's culminating exhibition Friday, Dec. 1, from 3-6 p.m. This event is free and open to the public.
The Jesse Dunn Tower is located on the fourth floor of the Jesse Dunn Building at Northwestern-Alva. Signs will be placed throughout the Jesse Dunn Building to help guide visitors to the show. Since Aria's exhibition is earlier in the day, the community can still attend the First Friday Art Walk activities at the Graceful Arts Center and the Runnymede Hotel in downtown Alva beginning at 6 p.m. Aria also will display artwork in the Runnymede.
Aria is a San Francisco-based artist. This new body of work was created during her time in Alva and contemplates the role of oil consumption in everyone's life and culture.
She said that it observes the intimate, complex relationship humans have with petroleum products. It is about the oil jacks that litter the landscape, rocking up and down. It is about the refineries—their necessity and their ugliness. It is about the everyday life that is enabled by petroleum products. It is about the history of oil, of the automobile, of American innovation and destruction and of the need for speed and convenience, which always go hand-in-hand.
"What do we mean when we talk about 'oil consumption?'" Aria said. "The average American uses around three gallons of oil a day. It is an essential part of our economy; it drives our vehicles, flies our planes, is the base for the synthetic products we use in the household or in the clothing we wear. It is even part of the food we eat.
"Why paint or write or even think about any of this? Because oil is a finite resource. We have already used over half of the earth's oil supply in just about a century's worth of consumption. I use petroleum products every hour of every day, and I wanted to take a moment to slow down and learn about why and how it has become such an essential part of my existence.
"As energy industries continue to innovate and markets shift, as fossil fuel resources become more scarce and renewable energy sources become more abundant, this multimedia installation opens the door to consider humanity's relationship with oil, and how it will inevitably change within our lifetimes."
View more of Aria's work at: www.christinearia.com.
Aria also will lead a free holiday-themed watercolor workshop for Northwestern students, employees and their family members Tuesday, Dec. 5, from 6:30 to 9 p.m. in the Jesse Dunn Art Annex, room 327. Art supplies will be provided. Members of the NWOSU Art Society will be helping the Visual Arts program to provide this workshop where those attending will learn basic watercolor techniques.
For more information contact Kyle Larson, assistant professor of art, at (580) 327-8108 or by email at krlarson@nwosu.edu.
-NW-
CONTACT FOR RELEASE
Ali Gavitt, University Relations Specialist
apgavitt@nwosu.edu 580-327-8480