Northwestern's Social Workers Association of Tomorrow raised nearly $500 in donations for Compassion in Action Dignity Drive
December 18, 2017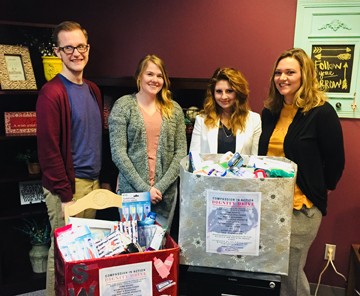 A few of the SWAT officers who participated in the Compassion in Action-Dignity Drive are (left to right) Levi Sanders, SWAT president; Sierra Miller, SWAT secretary; Annie Moss, SWAT member; Dana Kausek, SWAT vice president.
---
Students in the Social Workers Association of Tomorrow (SWAT) chapter at Northwestern Oklahoma State University recently called upon the community to for its Compassion in Action Dignity Drive this fall.
SWAT is a student-run organization that seeks to enhance the social work learning experience. One of SWAT's purposes is to employ community service projects while supporting our community partners and their consumers. The Compassion in Action Dignity Drive is one of the community service projects SWAT students host to give back to the community. Approximately $500 worth of donations included feminine hygiene products, toothbrushes, body wash, shampoo and conditioner, lotion, mouthwash, and deodorant. The Dignity Drive was a success and has allowed SWAT to provide others with basic needs in the Enid Community.
"Last year we donated to a local church for families involved in their soup kitchen," Dr. Jennifer Pribble, SWAT sponsor and assistant professor of social work, said. "This year's donations are being given to the YWCA in Enid, a Women's Shelter for domestic violence survivors...Women and children needing aid from a domestic violence situation can look into the YWCA located in Enid."
SWAT members would like to thank everyone who assisted with putting this event together and those who were able to donate from all three Northwestern locations.
"Being able to see students and faculty pour into the community is a sight that I will never tire of seeing," Levi Sanders, SWAT president and Goltry senior, said. "It was a privilege having this event. SWAT is grateful to everyone that pitched in to make the holiday season brighter."
Northwestern's SWAT members and social work majors, with their hometowns, classification and SWAT involvement, include Sanders; Dana Kausek, Enid senior, vice president (Enid); Sierra Miller, Enid senior, secretary; Reba Finley, Arnett sophomore, vice president (Alva); Katelyn Van Vickle, Shattuck junior, vice president (Woodward); and members Jordan Cremers, Ponca City senior, member; Emma Reed, Freedom sophomore, member; Jamie Metcalf, Blackwell senior, member; Madeline Turner, Enid junior, member; Mirissa Branine, Woodward senior, member; Annie Moss, Enid senior, member; Marsellia Rael, Woodward senior, member; Jennifer Ruppel, Woodward senior, member; Denise Tyrell, Enid sophomore, member; Jessica Goodballet, Mooreland junior, member; Lauren Hitchcock, Kiowa, Kansas, sophomore, member; Morgan Lopez, Seneca, Missouri, junior, member; Alicia James, Laverne junior, member; Jordan Koehn, Hooker junior, member; and Courtney Campbell, Enid doctoral candidate, member.
SWAT plans to have another donation drive at the same time next year. Donations will be welcome in November through the beginning of December in 2018.
-NW-
CONTACT FOR RELEASE
Ali Gavitt, University Relations Specialist
apgavitt@nwosu.edu, 580-327-8480