Northwestern's Ranger Preview set for Nov. 4
October 12, 2017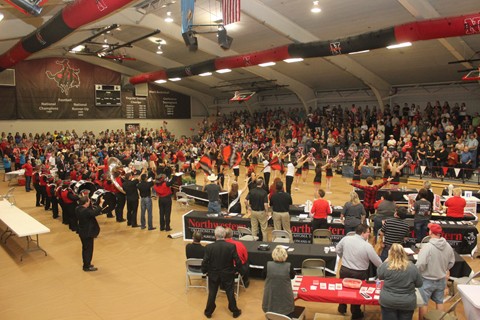 Ranger Preview at Northwestern Oklahoma State University is set for Nov. 4. High school seniors can register to attend and receive a $600 scholarship to Northwestern-Alva.
---
Northwestern Oklahoma State University's annual Ranger Preview event for high school seniors will kickoff Saturday, Nov. 4, at 9 a.m. in Percefull Fieldhouse on the Northwestern-Alva campus.
Any high school senior who attends Ranger Preview, is admitted to Northwestern as a full-time student at the Alva campus, and lives in Alva during the academic school year will receive a $600 scholarship.
"Ranger Preview is an excellent opportunity for seniors and their families to visit campus for a fun and informative event that showcases the numerous opportunities awaiting students at Northwestern," Paige Fischer, Director of Recruitment, said. "We have tremendous involvement in this event from faculty, students and staff in welcoming our potential freshmen to campus. I would like to extend a special 'thank you' to Community Bank for its support and generosity in making Ranger Preview possible."
The Office of Recruitment encourages pre-registration. Online registration is available at www.nwosu.edu/ranger-preview or by following the Ranger Preview link on Northwestern's homepage, www.nwosu.edu. If a student does not have the opportunity to pre-register, walk-ins are welcome.
The schedule of events for the day includes registration beginning at 9 a.m., with a welcome at 11 a.m. Following the welcome, students will tour the campus, meet with faculty members from each academic area and also have the opportunity to meet with members of many student organizations on campus. The event will end with lunch in the Coronado Cafeteria.
"I look forward to Ranger Preview every year," Calleb Mosburg, dean of student affairs and enrollment management, said. "The atmosphere is outstanding and truly highlights the Ranger Family in the best possible way. No other event brings together the faculty, staff, students, administration, and community quite like Ranger Preview. The opportunity for students to meet with faculty and with other students is what makes this event so special. Students and their families get the full picture of campus and the people who will be guiding them in their higher education journey. I'm excited for this year's Ranger Preview and look forward to meeting the future members of the Ranger Family!"
Those attending will receive free tickets to the 2 p.m. Northwestern versus Oklahoma Baptist University football game, a free t-shirt and free lunch.
The $15 college application fee also will be waived for all seniors who attend, courtesy of Community Bank of Alva.
To register by phone or to find out more information about Ranger Preview, call the Office of Recruitment at (580) 327-8546 or email them at recruit@nwosu.edu.
-NW-
CONTACT FOR RELEASE
Ali Gavitt, University Relations Specialist
apgavitt@nwosu.edu; 580-327-8480