Northwestern to play host to solar eclipse viewing event for first day of classes, Aug. 21
August 15, 2017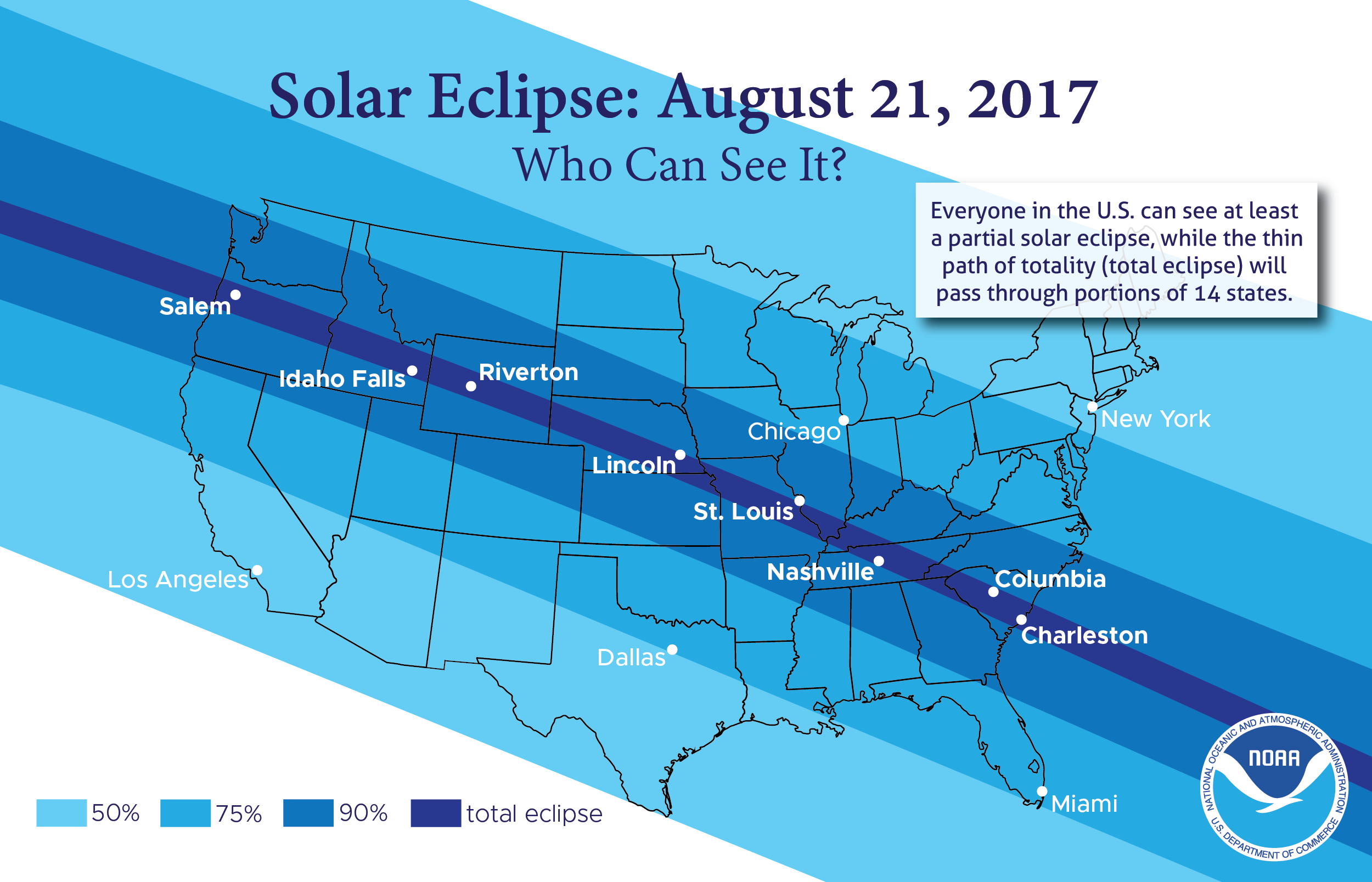 Where the Solar Eclipse will take place in the US
---
Northwestern to play host to solar eclipse viewing event for first day of classes, Aug. 21
A solar eclipse will take place on Aug. 21 – the first day of classes at Northwestern Oklahoma State University – and the Department of Natural Sciences is playing host to a watching event for students and employees.
Students can go to the Green Space on the northwest corner of the Alva campus to view the phenomenon safely through telescopes from the estimated time of 11:34 a.m. to 2:31 p.m. with the maximum of the eclipse being at 1:02 p.m. There will be a group photo at 12:50 p.m. Posts to Northwestern's social media accounts with the hashtags: #SolarEclipse2017 and #NWOSUScience will take place throughout the event.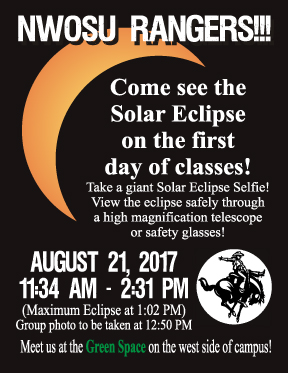 The Natural Sciences Department warns that the only safe way to look directly at the sun is through special-purpose solar filters, such as "eclipse glasses" or hand-held solar viewers. Homemade filters or sunglasses, even with dark lenses, are not safe for the human eye to look at the sun during the eclipse.
Every incoming freshman and transfer student will receive a pair of certified glasses in their orientation packet. The Department of Natural Sciences will have 100 extra pairs of eclipse viewing glasses at the event for people to have and share along with two telescopes set up with proper filters for viewing at higher magnification and taking pictures through the eyepieces. Oversized social media frames will be available for selfies for students.
Another total solar eclipse will not happen again until 2024.
For more information on the solar eclipse event contact Dr. Steven Maier, professor of physics and chair to Department of Natural Science, at (580) 327-8562 or sjmaier@nwosu.edu.
-NW-
CONTACT FOR RELEASE
Ali Gavitt, University Relations Specialist
apgavitt@nwosu.edu, 580-327-8480