Northwestern Theatre to Present '45 Plays for 45 Presidents' Oct. 15-17
October 6, 2020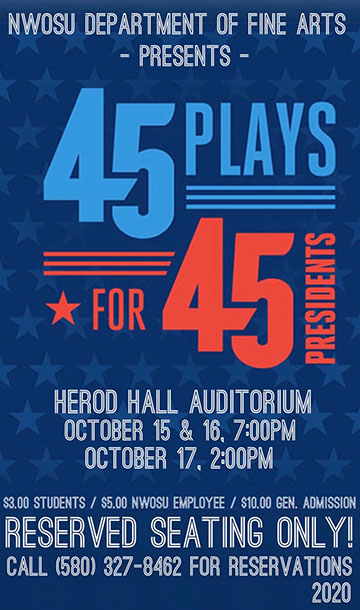 Members of Northwestern Oklahoma State University's theatre program will present "45 Plays for 45 Presidents" as their first theatrical performance of the year Oct. 15-16 at 7 p.m. and Oct. 17 at 2 p.m. in Herod Hall Auditorium on the Alva campus.
Due to COVID-19 regulations there will only be reserved seating for the three presentations of the play. There are only 75 seats available per performance. Parties larger than two will not be able to sit together. Audience members must reserve seats in advance but can pay at the door.
To make reservations contact Kimberly Weast, professor of theatre arts and chair of the department of fine arts, at (580) 327-8462 or kkweast@nwosu.edu.
General admission tickets to see the show are $10. Admission for Northwestern employees is $5 with a valid university ID, and student admission is $3 with Northwestern ID. Facial coverings will be required by all audience members.
Weast is the director of the production, and Mickey Jordan, director of technical theater and Herod Hall facilities manager, serves as the assistant director.
Weast said "45 Plays for 45 Presidents" is exactly what it sounds like, but every turn it takes is entirely unexpected.
"In each of these espresso shots of American history, a member of the flexible ensemble dons the coat of the presidency, and the group explores a surprising aspect of that administration," she said. "The short plays run on a spectrum from elections to impeachments, from personal stories to political battles, and from funny to tragic.
"Whether it's a comedy roast of Thomas Jefferson, a nuanced monologue about social upheaval during the Johnson administration, or a mini-musical about George Bush Sr., you're never going to know what's coming next. A unique, thought-provoking, and wildly entertaining evening of theatre."
Cast members in the production, their hometowns, majors and classifications include:
Gibson Barlow of Piedmont, biology freshman; Aliyah Bidwell of Greenfield, mass communication freshman; Kaylin Blatchford of Cleveland, business administration freshman; Adele Callaway of Shattuck, nursing freshman; Chris Chauncey of Cordell, mathematics junior; Michael Day of Okeene, music-vocal senior; Sydney Endsley of Meno, speech and theatre junior; Lilith Ferrero of Cordell, English education sophomore; Sam Grinder of Sayre, biology freshman; Temberlenn Hall of Jackson, Mississippi, speech and theatre sophomore; Anastasia Harper of Alva, biology-health science freshman; Kylee Harzman of Alva, undecided freshman; Ryan Jenkins of Dallas, Texas, mass communication freshman; Cory Johnson of Yucaipa, California, speech and theatre senior; Peyton Lucas of Fairview, psychology senior; Adria Lujan of Blair, nursing junior; Austin Morton of Buffalo, mass communication sophomore; and Feliciti Wall of Duncan, undecided freshman.
Serving as the production's stage managers are Cheyenne Cook of Elk City, biology freshman; and Destiny Engelken (TeLinde) of Alva, biology freshman.
For additional information on this production or the theatre program, contact Weast or Jordan at (580) 327-8458 or mojordan@nwosu.edu.
-NW-
CONTACT FOR RELEASE
Erin Davis, University Relations Specialist
eedavis@nwosu.edu 580-327-8480