Northwestern history professor featured in Journal of the West
November 19, 2020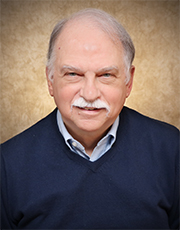 Dr. Roger Hardaway, professor of history at Northwestern Oklahoma State University, is the author of an article in the winter 2020 edition of the Journal of the West titled "African American Policemen on the Western Frontier."
Journal of the West is an illustrated quarterly devoted to the history and culture of the American West. Each issue is highlighted by a series of articles on a theme central to the history and life of the region. Intended for Western history enthusiasts as well as academics, Journal of the West presents articles by distinguished contributors that are insightful, engaging and based on sound scholarly research.
Hardaway explained that several African American men served (and more than a few died in the line of duty) as state, federal, county and city police officers from the time slavery was abolished in 1865 through the end of the 19th century. The discussion of this topic can be easily divided into three categories, Hardaway said.
First, from 1870 to 1873, Texas had a state police force that included numerous African American as well as Caucasian members.
"The Texas State Police was created by the state's Radical Republican governor, Edmund J. Davis, who served from 1870 to 1874," Hardaway said. "What upset white Texans about the Texas State Police was that the force's African American members—approximately 250-300 policemen—could arrest white lawbreakers. When Confederate sympathizers regained control of the Texas legislature, they repealed the law that created the Texas State Police."
Hardaway said the second group of African American policemen were two interrelated forces in Oklahoma.
"For the last third of the 19th century and the first part of the 20th, numerous African American deputy U.S. marshals patrolled what was then called Indian Territory (and Oklahoma Territory after 1890)," Hardaway said. "They worked under the auspices of U.S. District Judge Isaac Parker who held court in Fort Smith, Arkansas, with jurisdiction over what became the state of Oklahoma.
"Meanwhile, the governments of the Five Civilized Tribes had their own police forces to enforce tribal laws in Indian Territory. Two of those Native groups, the Creeks and the Seminoles, employed several tribal members of African descent as police officers."
Hardaway said the western African American population was becoming urbanized, moving from farms to cities. Several western cities—such as San Diego, Los Angeles, Spokane, Salt Lake City, Houston, Denver, and others—employed a few African Americans to patrol, usually, areas of town in which most African Americans lived.
"Studying these men and their careers in law enforcement helps us get a more complete picture of the contribution African Americans made to the settlement and development of the American West in the post-Civil War era,"Hardaway said.
Hardaway, who has been a Northwestern faculty member since 1990, is often cited as an expert on the history of African Americans who have lived in the American West. He has written three books and several journal articles on the subject. In addition, he has presented relevant papers at several academic conferences in both Europe and North America.
-NW-
CONTACT FOR RELEASE
Erin Davis, University Relations Specialist
eedavis@nwosu.edu, 580-327-8480