Northwestern Foundation launches "Text-To-Donate" technology
May 4, 2017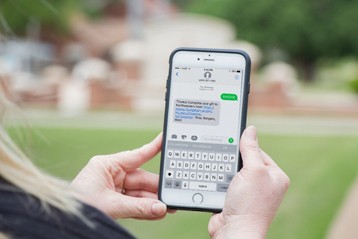 Text to Pay
---
The Northwestern Foundation & Alumni Association is pleased to announce the launch of its text-to-donate technology for the Imagine Northwestern comprehensive campaign. Powered by @Pay, this integration allows supporters to quickly donate to Northwestern Oklahoma State University via text messaging.
The Foundation's integration with @Pay drastically simplifies the mobile donation process without sacrificing security. Users simply text a preset word or amount to the organization's designated @Pay number, where first-time subscribers will go through a one-time process to enter donation information. For all future donations, supporters can quickly contribute from their phone using their payment information already stored with @Pay, resulting in a one-click mobile giving method.
"When a person makes the decision to invest in Northwestern, our goal is to make the process as simple and easy as possible," said Skeeter Bird, Northwestern Foundation & Alumni Association CEO. "It is a continuous challenge to stay connected and relevant to our constituents. This new online program is yet another method of making it easier for our alums and donors to stay invested in our University."
According to @Pay, mobile giving donations nation-wide have increased 205% in the past year and 51% of people visiting a nonprofit's website are doing so on mobile devices. Additionally, the Northwestern Foundation & Alumni Association saw a 37.8% increase in online donations between the 2014-15 and 2015-16 fiscal years. With the continued growth in technology, this new feature will better allow the Northwestern Foundation & Alumni Association to satisfy more donors' needs.
Those interested in supporting Northwestern students via mobile device should text IMAGINE to 580-297-7358 to complete their donation. For questions or more information, call Bird at 580-327-8593 or email him at aebird@nwosu.edu.
###