Northwestern Fine Arts to present 'Zombie Prom' Oct. 6, 7, 8
September 21, 2022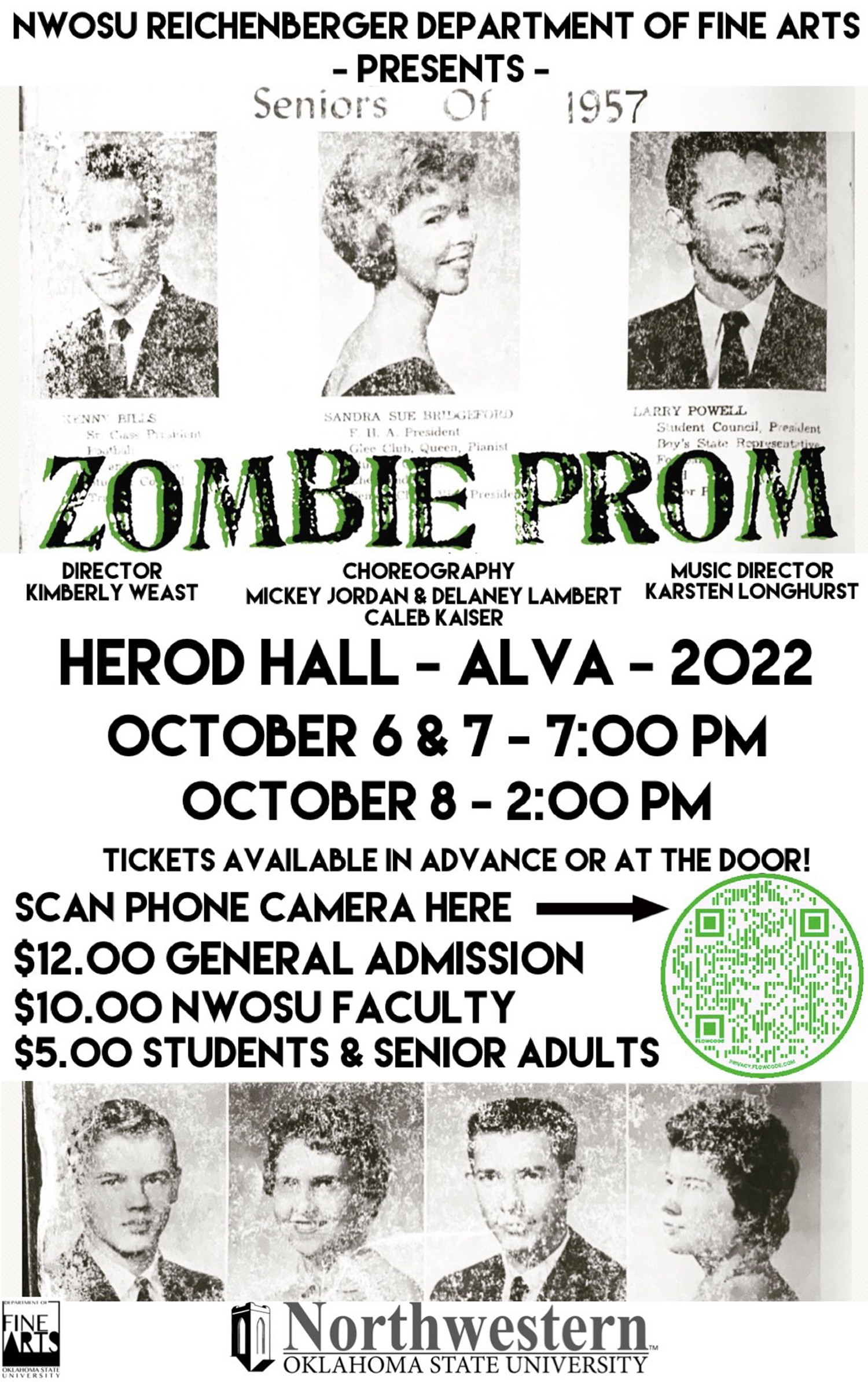 More than 30 people have been in rehearsals, building set and getting costumes and stage props ready as the Northwestern Oklahoma State University Reichenberger Fine Arts Department prepares for "Zombie Prom" scheduled for Oct. 6-7 at 7 p.m. and Oct. 8 at 2 p.m. in Herod Hall Auditorium on the Alva campus.
Tickets are available to purchase online at $12 for general admission, $10 for Northwestern employees with a current Northwestern employee ID, and $5 for senior citizens and students with a current student ID.
To purchase tickets online visit https://nwosufinearts.ludus.com/index.php.
Patrons may purchase tickets in person with cash or a check at the door starting one hour before each performance.
According to the Concord Theatricals website, the following is part of the show's plot and history:
"'Zombie Prom' is an off-Broadway musical with music by Dana P. Rowe and a book and lyrics by John Dempsey. The musical is set in the atomic 1950s at Enrico Fermi High, where the law is laid down by a zany, tyrannical principal. Pretty senior Toffee has fallen for the class bad boy. Family pressure forces her to end the romance, and he charges off on his motorcycle to the nuclear waste dump. He returns glowing and determined to reclaim Toffee's heart. He still wants to graduate, but most of all he wants to take Toffee to the prom. The principal orders him to drop dead while a scandal reporter seizes on him as the freak du jour. History comes to his rescue while a tuneful selection of original songs in the style of 50s hits keeps the action rocking across the stage.
"'Zombie Prom' was first produced at The Red Barn Theatre in Key West, Florida, in February 1993. On March 26, 1996, the show premiered off-Broadway at the Variety Arts Theatre. A short film adaptation of 'Zombie Prom' (with a running time of only 36 minutes) was released in 2006 at a number of film festivals, receiving a 4-star review on Film Threat and awards including Best Short Film at the Palm Beach International Film Festival. The cast includes drag queen RuPaul as Principal Strict."
Kimberly Weast, professor of theatre arts and Reichenberger Department of Fine Arts chair, is serving as the director and lighting designer of the musical while Karsten Longhurst, director of choral studies and instructor of music, is serving as the music director. Mickey Jordan, director of technical theatre and Herod Hall facilities manager, Caleb Kaiser, instrumental music freshman from Enid, and Delaney Lambert, English junior from Alva, are serving as the choreography team. Jordan has also created the set/prop design and joined Weast in working on costuming. Lisa Turner, speech and theatre sophomore from Alva, is the Stage Manager while members of the student campus organization Castle Players will be serving as the House Management team. Members of the theatre production classes have helped to build the set and prepare lighting. Jerad Bradt with BOSS Music will be the sound technician.
"Based on science fiction comic books and B-grade movies, 'Zombie Prom' is set at the height of the American Atomic age in 1957," Jordan said. "There is no blood, guts, or gore in this production, just nostalgic teenage love with a zombie twist. We have incorporated lots of 50s favorite dance steps into the choreography including the stroll, the hand jive, the Hully Gully and the Jitterbug with a few surprises, too!"
Jordan said costuming this show has also been a treat, where everyone (both living and dead) gets to look their best. The theatre students have used old high school yearbooks to create various looks for the characters.
"We have pulled so much from our campus costume shop and are using true vintage clothing for this production," Jordan said. "Northwestern employees and the local community have been such a great help in finding period-appropriate formals for everyone. I especially love the petticoats and full skirt dresses. I am really pleased with how things are shaping up; all of the fun mid-century clothing looks great on everyone!"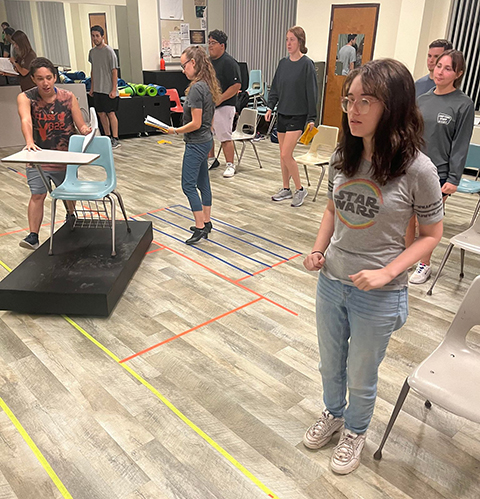 Cast members rehearse choreography for a scene from the upcoming musical "Zombie Prom" at Northwestern. The show will take place in Herod Hall Auditorium on Oct. 6-7 at 7 p.m. and Oct. 8 at 2 p.m.
Cast members for this production include the following:
Gabriel Bussinger of Woodward, freshman speech and theatre major; Jade Campbell of Woodward, freshman instrumental music major; Kenzi Cronkhite of Enid, freshman vocal music education major; Levi Crumpton of Cushing, freshman vocal music education major; Alan Garcia of Beaver, sophomore biology-health science major; Sam Grinder of Sayre, junior vocal music education major; Jameson Hale of Elk City, sophomore vocal music education major; Kylee Harzman of Alva, junior criminal justice-law enforcement major; Kevin Jaquez of Enid, freshman vocal music education major; Sadrie Overall of Wakita, senior biology major; Emily Smith of Harrah, junior vocal music education major; Bethany Towns of Alva, sophomore psychology major; Jerilynn Wilkins of Pima, Arizona, junior vocal performance major; Donavan Winkles of Alva, freshman computer science major; Emily Wright of Cheyenne, freshman mass communication major; and Kaiser.
The tech crew includes the following:
Dorothy Benton of Enid, freshman business administration major; Lilith Ferrero of Alva, junior speech and theatre major; Maegan Holson of Waynoka, sophomore psychology major; Kelsy Martinez of Woodward, freshman undecided major; John Snyder of Oklahoma City, freshman history major; Rubi Tena of Woodward, freshman instrumental music major; Rosa Vargas of Lahoma, freshman social science education major; and Turner.
"'Zombie Prom' is an energetic, fast-paced musical in which our cast and crew are having a good time preparing," Weast said. "This 90-minute musical comedy is laced with hilarious one-liners, fabulous music and some really great choreography."
For more information about "Zombie Prom" or the theatre program, contact Weast at (580) 327-8462 or kkweast@nwosu.edu or Jordan at (580) 327-8458 or mojordan@nwosu.edu.
For additional information about the theatre program, visit https://www.nwosu.edu/school-of-arts-and-sciences/fine-arts/speech-and-theatre. More about all facets of the Reichenberger Fine Arts Department may be found at www.nwosu.edu/fine-arts.
-NW-
CONTACT FOR RELEASE
Erin Davis, University Relations Specialist
eedavis@nwosu.edu; (580) 327-8480