Northwestern Alumnus scheduled as fall 2019 commencement speaker
November 26, 2019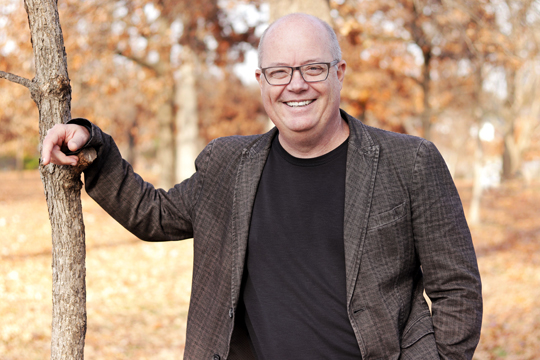 Dr. Chan Hellman of Tulsa, a 1989 graduate of Northwestern Oklahoma State University, will deliver the commencement address at his alma mater during the University's fall commencement ceremony on Sunday, Dec. 8, at 3:30 p.m. in Percefull Fieldhouse.
A native of Helena, he graduated from Northwestern with a bachelor's degree in psychology, and later earned a master's degree in experimental psychology at the University of Central Oklahoma and a Ph.D. in quantitative psychology at Oklahoma State University. While at Northwestern, Hellman served as a Student Government Association senator.
"During my time at Northwestern I really wanted to take scuba diving," Hellman said. "I coordinated my courses around this opportunity which would potentially put me behind on the graduation timeline. Doc Mathews was the instructor and taught a really challenging course that included the requirement to pass a written test on the kinesiology and chemistry associated with diving (especially what happens to the body during diving accidents).
"Scuba diving was an amazing experience that I would not have pursued had it not been for this class. On the optional final exam, Doc Matthews invited us to show up and dive. I put on an air tank and swam to the deep end bottom and used the whole tank just staring at the surface reflecting on how Northwestern was offering a pathway of experiences that would change my life forever."
Hellman is a professor in the Anne & Henry Zarrow School of Social Work at the University of Oklahoma. He also holds an adjunct professor appointment in the Department of Health Promotion Sciences for the OU College of Public Health. He has taught invited courses at Hebrew University in Jerusalem, as well as, Northern Ireland, Belgium, and the United Kingdom.
He is also the founding director for the Hope Research Center. At the Center they design and collect hope-centered program evaluation and applied research projects customized to the needs of the organization. This hope-centered research is focused on evaluating and improving program services to achieve client outcomes.
Hellman has numerous scholarly publications in scientific journals, technical reports, books and has presented his research at both national and international conferences. His research is focused on the application of hope theory to those impacted by trauma and adversity. He is also interested in the impact of prevention and intervention services on increasing and sustaining client hope.
Hellman teaches master's and doctoral level students primarily in the areas of positive psychology, research methods, and statistics. He also directs student research in the areas of hope and nonprofit organizations.
The lifelong Oklahoman and his wife Kendra enjoy spending time with their children and grandchildren, traveling and reading.
Hellman serves as the Director of Research for the Alliance for Hope International (the parent organization of more than 140 Family Justice Centers located in the United States, Europe, Ireland, Latin America, and Japan). Chan is the lead researcher for Camp HOPE America, a program for children exposed to domestic violence currently operating in 23 states. He is also on the Department of Justice-supported National Advisory Board for the use of technology to assist victims of crime. Chan also serves on committees with the Tulsa Area United Way for their Nonprofit Leadership Academy as well as the Social Innovation grant making process.
A livestream link for the commencement exercises can be found at www.YouTube.com/NWOSURangers.
-NW-
Contact for Release
Erin Davis, University Relations Specialist
eedavis@nwosu.edu; 580-327-8480