Northwestern alum one of two winners on Comeback Kitchen giving her second chance at Food Network Star competition
June 14, 2018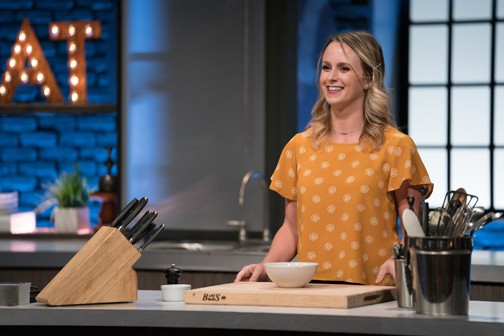 Northwestern alum Amy Pottinger won Comeback Kitchen and has returned to Food Network Star competition.
Take two!
The number two may quickly become Northwestern Oklahoma State University alumna Amy Pottinger's lucky number because she was one of two people to recently be named this summer's Food Network Star: Comeback Kitchen winner. The win gives her a second chance to compete on Food Network Star, which kicked off Sunday, June 17, at 8 p.m. (CST).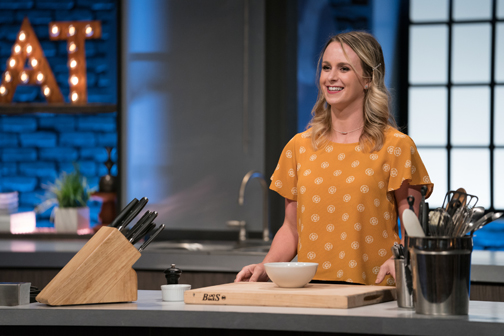 Season 13's Pottinger, who lives in Honolulu, Hawaii, with her Air Force husband Patrick and their two young children, battled against eight former Star competitor's during the three-episode Comeback Kitchen, where for the first time TV hosts Tyler Florence and Valerie Bertinelli named two winners – both Pottinger, a home cook who provides catering and private chef services, and Adam Gertler, a sausage maker for Dog Haus restaurants and host of FX Movie Download who appeared on Season Four.
At the end of the finale episode of Comeback Kitchen, Pottinger said that it didn't make it to air, but the TV hosts asked the final two competitors why they deserved to be the winner and return to Food Network Star.
"When it came to me, all I could think is that 'I built it,'" Pottinger said. "I don't have this wildly impressive empire or anything grand at all really. But being back here, standing in front of them, hoping to prove myself all started from so little. I began the blog (www.caviarandcrayons.com) about three and a half years ago from my home wanting to share my love of food with people. But I had young children and my husband is in the military. So everything that I had was built in these nooks and crannies in my life; secondary to my husband's job and my children. I work hard, and I don't stop. I might not have the pedigree or resume as the other finalists, but I work hard for my little mole hill."
Her hard work and culinary skills are paying off as interesting challenge after interesting challenge came her way – including cooking with liver for the first AND second times of her life in consecutive cooking challenges. The "liver queen," as the TV hosts called her, confessed that she has not discovered a new-found love for liver and hasn't touched it since the show.
"Really, I have cooked with it twice in my life (besides putting it in my dogs' food) and both times it was on television," she said.
The hardest part of all the challenges each week for Pottinger was thinking on the fly and giving the judges something she was proud of within the given time.
"The cooking times are real, and they go a lot quicker than you think they would. Not knowing what they will throw at you for a twist is always unsettling. For the most part, the food was never the problem for me. It was inconsistency in my presentation that was my stumbling block."
Pottinger, who earned a degree in elementary education from Northwestern, picked up a lot of knowledge about on-camera skills from being on these television shows to go along with what she already knows about cooking. She has her experiences from Season 13 of Star to fall back on as she made it to the top four before going home. She then found herself on Star Salvation trying to get back to the Star competition and has learned even more through the challenges on Comeback Kitchen and from the advice provided.
"Tyler and Valerie were awesome. They looked us all in the eye and said 'you don't have to listen to us or internalize our advice, but not a lot of people get to stand here and hear what you will hear from us. We will be honest, good and bad.' You could really tell that they cared and were invested in the process."
Pottinger also believes there hasn't been just one lesson learned that has helped her on these shows.
Food Network Star is a unique experience. You learn so much in such a short amount of time. It's like an obstacle course, a speedy trial by fire. You learn faster and harder than you would through any other platform."
Now that Pottinger has made it back to this season's Star program to battle against nine other culinary hopefuls, she's ready for the challenge.
"For some reason, Comeback Kitchen came with a lot more ease for me. Maybe it's because I had done it before, or I was just about to stay out of my head. But it felt more natural. My plan going back to Food Network Star was to just keep that same energy up and show Bobby (Flay) and Giada (De Laurentiis) that I could do it."
In the season premiere at Universal Orlando Resort's Volcano Bay the initial group of 10 finalists learned that Pottinger and Gertler would be joining the competition. The first challenge had each finalist make a portable version of their signature dish as they went head-to-head against each other, trying to convince park guests to try their unique creations. Pottinger and Gertler were up against each other with Pottinger's Octopus Tacos winning their battle.
The 2010 Ranger alum definitely did something right in her return to the show as she made it through to the next round, which will be seen Sunday, June 24, at 8 p.m., from Los Angeles with the finale airing Aug. 5. Fans of Pottinger also can vote in the Food Network Star Fan Favorite Sweepstakes once a day through Aug. 10 at www.foodnetwork.com/shows/food-network-star/sweepstakes/vote.
-NW-