Mother, Son Among First To Earn Doctor of Nursing Practice Degrees at Northwestern
May 11, 2020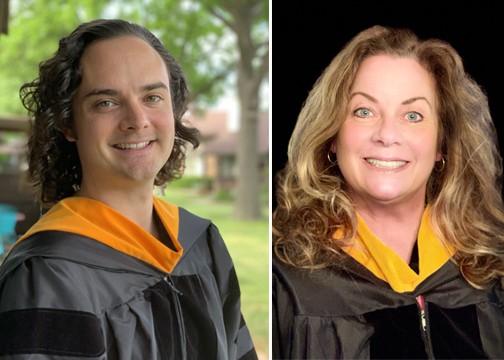 Andrew and Angela Skousen
May 9, 2020, was supposed to be an exciting and history-making day for Northwestern Oklahoma State University. Faculty within the Wisdom Family Foundation Doctoral Program for Rural Nursing Practice (DNP) program have spent the last three years preparing students to graduate in the university's first-ever class.
Among the seven students who finished the program are a mother and son pair.
Angela and Andrew Skousen wanted to further their careers, and Northwestern gave them the perfect opportunity.
Before completing his DNP, Andrew, who lives in Tulsa, earned two associate degrees and his Bachelor of Science in non-nursing degree fields. Once he obtained these degrees, he entered the work force as a paramedic and pharmacy tech. In the medical world, he worked alongside nurse practitioners and registered nurses and knew his future was in nursing. Once he was admitted into nursing school, he worked in emergency rooms and urgent care facilities.
While finishing his doctorate at Northwestern, he has been teaching at Tulsa Community College (TCC) and Tulsa Technical School.
"I have always wanted the autonomy and responsibility of having my own patients," Andrew said. "The DNP role is the future of healthcare and will be a very needed profession, it is also fun and challenging."
Angela Skousen, who lives in Stillwater, earned her registered nurse license in 1983 from TCC while already working as a paramedic. In 1991, she completed her BSN from Northwestern and immediately entered the workforce. She worked in almost every capacity, which included emergency room, cardiac care unit, home health, post-anesthesia care unit and floor nursing. After spending nine years in those areas, she moved into aesthetics and has been helping patients in the beauty industry for the past 20 years.
"I love aesthetics because I'm making people happy every day," Angela said.
Earning a DNP was Angela's lifelong dream, but the timing was never right. Once she heard Northwestern had established the program, she knew this was her opportunity. Angela decided to return to her alma mater to complete her DNP.
Angela and Andrew relied heavily on each other as study partners.
"It is such an experience to see my son's perspective on things we are learning compared to mine," Angela said. "Thirty years makes a big difference on perspective."
"It is interesting to see how we both accomplish assignments in very different ways."
Even with differences in perspective, the duo could agree on one thing – the quality of Northwestern's professors.
While each professor may have their own teaching style, both Skousens found that each professor provided them with something they needed. Whether it was Dr. Courtney Ballina, assistant professor of nursing, pushing Andrew through his moments of procrastination or Dr. Patricia Thompson, the DNP program's director, answering all of Angela's questions, the Skousens were supported by all faculty and staff within the program.
"Northwestern's Hybrid BSN-to-DNP program offers students the unique experience of small classes with strong, supportive faculty," said Dr. Shelly Wells, professor of nursing and chair of the Charles Morton Share Trust Division of Nursing. "Our program provides students with the opportunity to get to know their professors and understand that these faculty members are all currently and actively engaged in clinical practices."
"The vision for our program is to strengthen the health care workforce and prepare advanced practice registered nurses who are ready to care for people with the health unique needs that accompany living in a rural area. Our goal is the student's success."
The Skousens have different goals for their future careers with their new degrees, but their love for helping others is unwavering.
This hybrid program allows students who have earned a Bachelor of Science in Nursing (BSN) degree to fully obtain the Doctor of Nursing Practice (DNP) degree to practice as family nurse practitioners.
Northwestern is one of only two public universities in Oklahoma to offer a Family Nurse Practitioner Program, the first public university to offer the BSN to DNP program and the only public university with the Doctoral Program for Rural Nursing Practice.
This program prepares DNPs to become certified Family Nurse Practitioners in their home communities and surrounding areas without first earning a master's degree. It is a practice-focused doctorate, rather than the traditional research-focused doctorate and places an emphasis on health care in rural areas.
For more information, visit www.nwosu.edu/graduate-studies/bsn-to-dnp or contact Wells at (580) 327-8489 or scwells@nwosu.edu.
-NW-