Local business 'The Elegant Toad' gives large dress contribution to next year's 'Primp for Prom' event
May 8, 2017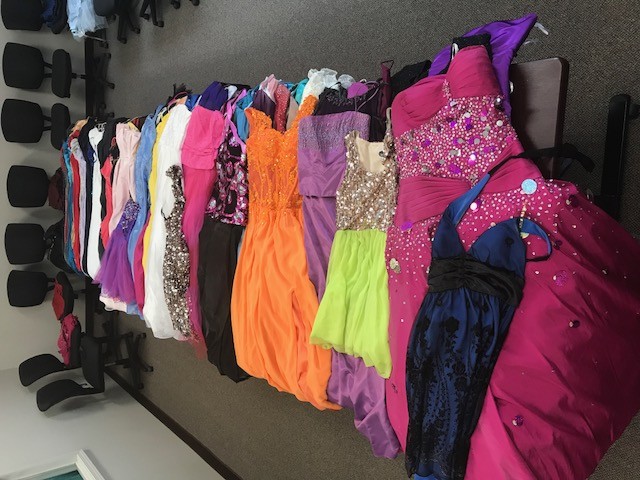 Dresses donated by The Elegant Toad
The Elegant Toad donated 108 dresses to Northwestern's annual "Primp for Prom" event in March 2018. The dresses are free for students in area schools to wear for their prom.
---
Already preparing for next year's "Primp for Prom" event, local business owner Nicki Chaffee of "The Elegant Toad" has donated 108 dresses.
Chaffee's donations include dresses in every size, color, style and length for local students to be able to use for their prom. Each year Northwestern Oklahoma State University's Department of Social Work and Woodward High School Key Club co-sponsor the event and gather dress and shoe donations providing them to high school students at no charge.
Dr. Kylene Rehder, associate professor and program director of social work and chair of Northwestern's Department of Social Work, said the department contacted Chaffee after hearing about her available dress selection, and she enthusiastically donated the dresses she had. Chaffee commented that Primp for Prom was a great program, and she was happy to donate to this project.
"This gracious donation from Alva's 'Elegant Toad' ensures that Primp for Prom will take place next year," Rehder said. "We are so grateful to [Nikki] Chaffee and her generous heart. The impact of her donation will guarantee young women in northwest Oklahoma the opportunity to attend prom and other important benchmark events in the future. As we always say, this event is about so much more than dresses. It is about community, opportunity, service and social justice.
"As the event grows, we are always in search of additional clothing racks to display the dresses. We would also like to thank McKenzie Pshigoda, executive director of Shattuck's Chamber of Commerce and owner of Shattuck All Stars Gym, for her donation of a clothing rack."
The annual Primp for Prom event was held in March, and this year approximately 250 donated dresses and more than 50 pairs of shoes went home to students in more than 10 different schools and two states.
For more information on the annual Primp for Prom event or how to donate dresses, shoes or accessories contact Rehder at kdrehder@nwosu.edu or (580) 327-8135.
-NW-
Contact for Release
Ali Gavitt, University Relations Specialist
apgavitt@nwosu.edu; 580-327-8480