Kyle Larson to show art work at Tulsa Artists' Coalition Gallery
October 30, 2018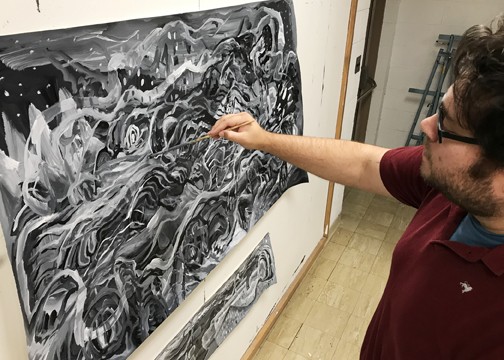 Kyle Larson works on a new piece for an art exhibition at the Tulsa Artists' Coalition Gallery. The opening of the show is Nov. 2 from 6-9 p.m. and will continue to Dec. 1.
The art work of Kyle Larson, assistant professor of art at Northwestern Oklahoma State University, was accepted for an exhibition in the Tulsa Artists' Coalition (TAC) Gallery. The opening for his show "Gray Days" will be Nov. 2 from 6-9 p.m. and will continue to Dec.1.
Larson said the opening of his show is part of the Tulsa Art Walk, and people are able to go to other openings in nearby galleries. The TAC Gallery is located at 9 East M.B. Brady in the Tulsa Arts District and is open from 6-9 p.m. Thursdays, Fridays and Saturdays or by appointment.
Larson said he will be showing work he's been creating for the past year.
"Some of the work is autobiographical and some of it is more reactions to world events," he said. "Both kind of play off of each other. It's kind of my inward world versus things that are going on in the world and how they collide. Even though some stuff is about reactions to world events, they're also personal."
Larson talked a little about his work and said that his goal was for people to spend time looking at the art work and trying to figure out what is actually happening in it. He said that his paintings aren't the type that people can glance at and move on.
"Through painting and drawing I explore the temporal and transitory, and allow these factors to disrupt what presents itself as rigid and stagnant," Larson said. "I find the more I apply and take away from the surface, the more the work becomes about the loss or absence of things. Withstanding the cycles of construction and deconstruction, the essential remains. Forms become incomplete, fall apart, or represent something that used to be present.
"A lot of the imagery in my work subverts itself -- clouds don't act the way clouds do, stones aren't stone-like, and objects and forms dissipate and lose their function. What ends up staying after everything is gone, or when things no longer can hold their own mass? Sometimes it's nothing but the wind. Sometimes it's a table on some old floorboards with remnants of whatever was last placed on it. And sometimes it's the monuments of, and to, our own undoing."
Larson said he welcomes the Northwestern community and public to come see his show throughout the month of November in Tulsa.
For more information contact Larson at (580) 327-8108 or krlarson@nwosu.edu. To view some of his work, visit www.kyle-larson.com.
-NW-