Katrina Henning talks about Madacascar Peace Corps experience
October 10, 2018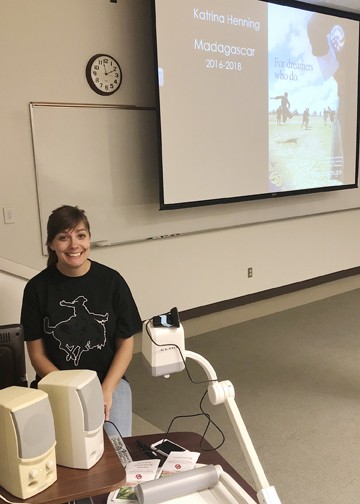 Katrina Henning speaks to students and faculty about her Peach Corps experiences in Madagascar during a recent visit to Northwestern
Northwestern Oklahoma State University alumna Katrina Henning recently returned to the United States after serving two years in the Peace Corps in Madagascar. The 2016 graduate recently shared a little about her experience to students and faculty in the Science Amphitheatre.
Henning, who majored in English and minored in biology while at Northwestern, is from Milton, Delaware. She said she took on this experience because of the travel, and because she wants to attend graduate school, she wanted to make her resume more competitive. Henning is now TEFL (Teaching English as a Foreign Language) certified and can teach English anywhere. She said Northwestern helped shape her view on this experience.
"I think the small setting of NWOSU lends itself to a great community," Henning said. "This is something I tried to imitate in my school with my students and staff. I had girls club on Saturdays and got to practice Zumba with my staff. Creating lasting relationships is something I was fortunate to do with professors from the math and science departments at Northwestern and is what I tried to recreate in Madagascar."
Of her Peace Corps experience, Henning said she completed three months of training in a small village where they spoke no English. She said she had to learn the language Malagasy while in training.
Henning arrived in Madagascar in June 2016. While there, she taught English as a foreign language in a private school. She said the Peace Corps offers seven different sectors in which volunteers can help, but Madagascar only had agriculture, health and education.
Henning's home for two years was in Antsirabe, which is the third largest city in Madagascar. As a volunteer, Henning said she not only taught English, but she also helped around the community.
"We were lucky enough to have a library, and in the library someone had donated massive carpets," she said. "We would take them to the river once a month and wash them in the river where there were actually people bathing."
After living within a different culture for two years, Henning said she experienced cultural shock when arriving in the U.S.
"I'm still trying to get accustomed to going to Walmart," Henning said. "It was a little overwhelming. I'm not used to having choices. I'm still getting used to speaking English all the time; finding words that I know in Malagasy, but can't remember what they are in English."
Henning said she would like to volunteer again but in a different area for a different experience.
-NW-