Homecoming 2018 scheduled for Oct. 4-6; committee seeking theme submissions, parade marshal nominations
January 10, 2018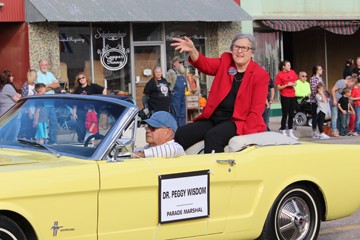 Dr. Peggy Wisdom, Northwestern's 2017 Homecoming Parade Marshal
---
The annual contest to select a homecoming theme and parade marshal for the 2018 Alva/Northwestern Oklahoma State University Homecoming has begun and is open to the public. Deadline for submitting entries is noon Wednesday, Feb. 7.
This year's Homecoming will be celebrated Thursday through Saturday, Oct. 4-6, 2018.
Theme suggestions must be limited to 10 words or fewer and should be something that can be illustrated through designs for floats, as well as dorm and campus building decorations. The person who submits the winning theme will receive $25 in Alva Area Chamber of Commerce Chamber Bucks.
Persons nominated for parade marshal must have a significant connection, current or past, to Northwestern, whether as a student, faculty member, staff member, coach, administrator or friend of the university.
Nominations may be turned in to Pecha in Herod Hall, second floor, or by emailing him at dmpecha@nwosu.edu. Suggestions also may be submitted for both theme and parade marshal by visiting www.nwosu.edu/forms/homecoming-theme-form.
For a listing of 2018 Homecoming events, previous themes and parade marshals visit www.nwosu.edu/homecoming. The page will be updated as details are finalized.
-NW-
CONTACT FOR RELEASE
Ali Gavitt, University Relations Specialist
apgavitt@nwosu.edu 580-327-8480