Freshman Funday at Northwestern set for July 15
May 16, 2017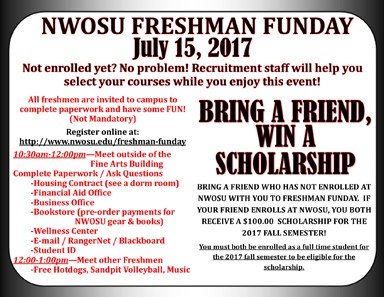 Freshman Funday Schedule
---
Mark your calendars for Northwestern Oklahoma State University's Freshman Funday set for Saturday, July 15, from 10:30 a.m. to noon. All incoming freshmen are invited to the Alva campus to complete paperwork, have a chance to earn a scholarship, win a gift card and have some fun for Freshman Funday!
Students are encouraged to bring a friend who has not enrolled at Northwestern. If the student's friend enrolls, both will receive a $100 scholarship for the fall 2017 semester. To be eligible for the scholarship both students must be enrolled full-time for the fall 2017 semester.
Students also are encouraged to take part in the "selfie-photo" challenge for a chance to win a $250 gift card to the Northwestern bookstore. All photos must be taken at the bookstore in the Bookstore Selfie Booth, then posted on social media (Twitter, Facebook or Instagram) with the bookstore's displayed hashtag to be entered. No purchase necessary to enter. Only one gift card will be awarded, chosen randomly by bookstore staff. Students are not required to be present to win. All photos must be posted and tagged by 1 p.m. on Freshman Funday.
After the paperwork sessions are finished at noon, students are invited to meet other freshmen, enjoy free hotdogs, music and play sandpit volleyball near Coronado Hall.
Register online at www.nwosu.edu/freshman-funday.
For more information contact Kaylyn Hansen, director of student life and counseling, at (580) 327-8439 or klhansen@nwosu.edu.
-NW-
Contact for Release
Ali Gavitt, University Relations Specialist
apgavitt@nwosu.edu, 580-327-8480