Enid High School Students Visit Northwestern-Alva for 'Teach Oklahoma'
April 21, 2021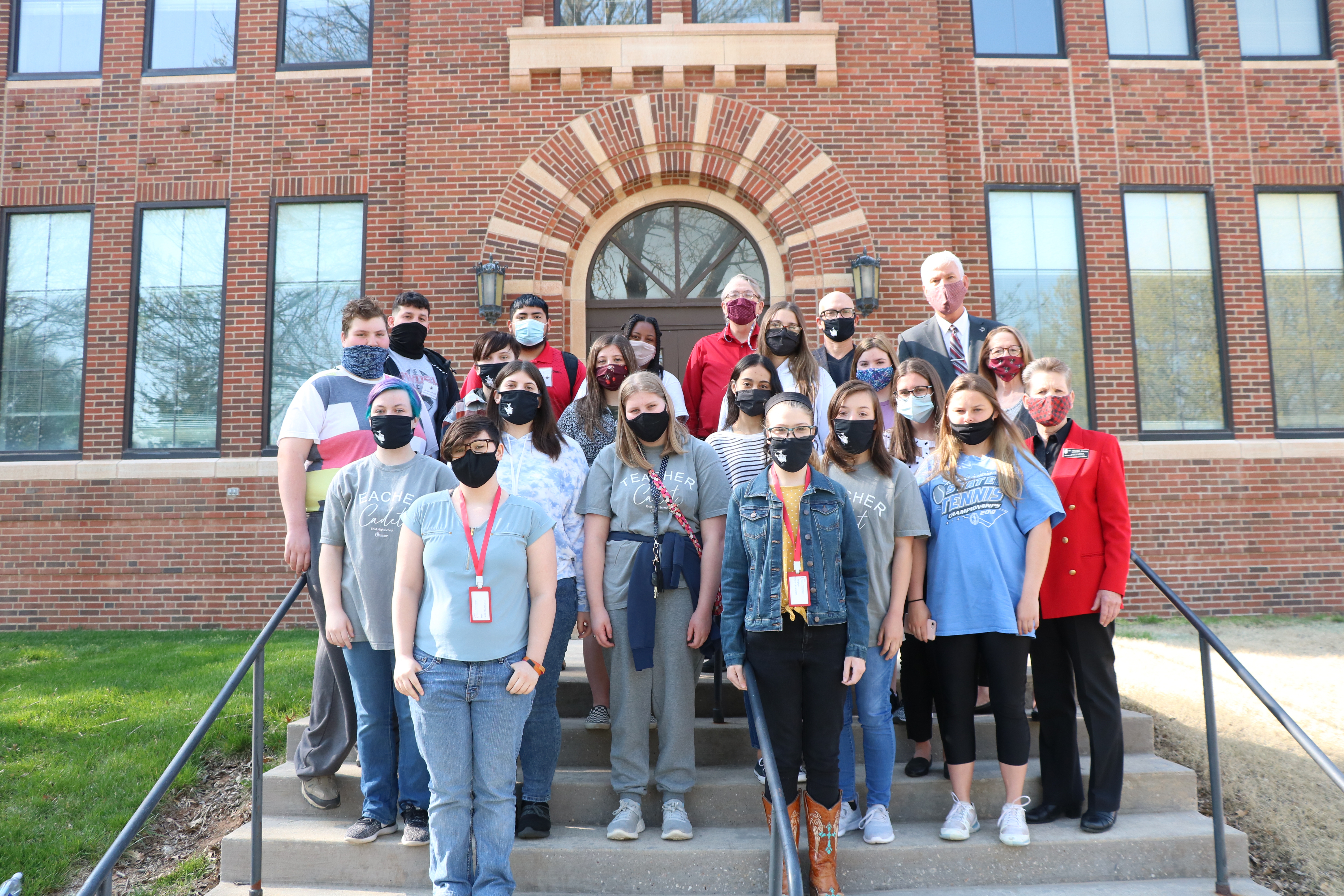 Students from Enid High School visiting Northwestern recently to learn more about the teacher education program include left to right (front row) Samara Koehn, Abigayle Counce (second row) Jasmine Crase, Kaitlyn Chermack, Kailey Heidloff, Breianna Bolenbaugh, Cheyenne Gill, chair to the Division of Education Dr. Christee Jenlink, (third row) Jerry Felber, Jalyn Ring, Hannah Burnett, Lucero Delgadillo, Kirsten Davis, Laney Williams, Northwestern education student Mikayla Edris, professor of education Dr. Martie Young (back row) Northwestern education students Canon Arnold, Juan Licea, Lashon Chew, sponsor Dusty Hugaboom, associate professor of education Dr. Steven Mackie, and associate vice president for academics Dr. James Bell.
---
Northwestern Oklahoma State University-Alva played host to 13 Enid High School students recently for the high school's "Teach Oklahoma" course.
Teach Oklahoma was designed to mentor high school students about teaching and provide fundamental knowledge about the teaching profession in Oklahoma. The course is supported through the Oklahoma State Regents for Higher Education.
The students were welcomed by Dr. James Bell, associate vice president for academics and dean of faculty, and participated in a game in which they learned about Northwestern, university life, and the Northwestern teacher preparation program. Northwestern teacher candidates who assisted were Alva junior Juan Licea, Elgin junior Lashon Chew, Vail, Arizona, senior Mikayla Edris, and Alvarado, Texas, senior Canon Arnold.
Enid High School's students were able to see the types of work Northwestern's teacher candidates create in their programs, like the course requirement of Northwestern teacher candidates needing to video-record their own lessons to use as a reference. The students were able to watch some examples of videos to show the length of preparation that goes into creating and sharing a lesson plan.
The high school students also toured the campus and had lunch in the Coronado Café. During lunch, they were presented additional information about Northwestern by Calleb Mosburg, dean of student affairs and enrollment management.
Students attending included Breianna Bolenbaugh, Hannah Burnett, Kaitlyn Chermack, Abigayle Counce, Jasmine Crase, Kirsten Davis, Lucero Delgadillo, Jerry Felber, Cheyenne Gill, Kailey Heidloff, Samara Koehn, Jalyn Ring, Laney Williams, and sponsor Dusty Hugaboom.
Dr. Christee Jenlink, professor of education, chair to the Division of Education and associate dean of the School of Education, understands and believes in the importance of students actively learning and getting hands-on experience, especially in the teaching field.
"The shortage of well-trained teachers is at the crisis level," Jenlink said. "Every child deserves an educator who is trained from day one to meet the needs of every student. The Teach Oklahoma program is an excellent way of encouraging high school students to become the excellent educators every child needs and deserves."
Northwestern's teacher education program, which is housed in the Division of Education, is accredited by the Council for the Accreditation of Educator Preparation (CAEP) and approved by the Commission for Educational Quality and Accountability (CEOA).
For more information about Northwestern's teaching programs contact Jenlink at (580) 327-8450 or cljenlink@nwosu.edu.
-NW-
CONTACT FOR RELEASE
Erin Davis, University Relations Specialist
eedavis@nwosu.edu 580-327-8480