Davis' senior art exhibition 'Cry Bout It' to showcase paintings, drawings
November 30, 2018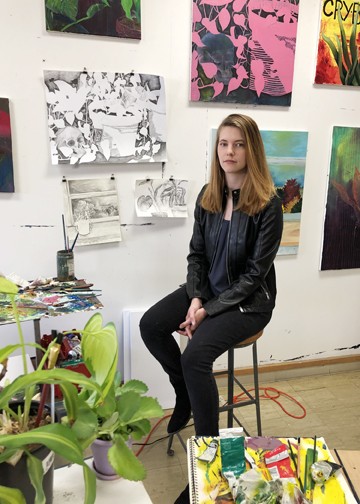 Rachel Davis is surrounded by some of the artwork she plans to exhibit at her senior show Dec. 7 from 6-8 p.m. at Gallery VIP in downtown Alva during the December First Friday Art Walk.
Rachel Davis, a senior visual arts minor and sociology major at Northwestern Oklahoma State University, will present her Advanced Studio Exhibition titled "Cry Bout It" on Friday, Dec. 7, from 6-8 p.m. at Gallery VIP in downtown Alva during the December First Friday Art Walk.
The Kingston native's work will consist of paintings and graphite drawings created through a combination of direct observation of still life, improvisation of color and mark making.
"By painting plants and other vegetal life in a manner akin to portraiture, I create tension through the use of color, light and atmospheric space to convey psychological meanings such as sentiment, traumas and personality," Davis said. "Through this process, I have developed a greater understanding of how ordinary objects can communicate intense emotion."
Davis said she is inspired by Vera Iliatova, an oil painter whose dreamscapes depict flowers, figures and objects in dissociative segments.
"Her paintings often depict psychologically charged images at moments of impending melodrama. I am also fascinated by Goya's black paintings, which use dark colors and nightmarish imagery to portray his feelings of panic, terror and hysteria. Both painters inject emotion into their subject matter in a way I strive to emulate."
Kyle Larson, assistant professor of art, is Davis' instructor and has seen her talents grow.
"It has been a joy to see Rachel grow as an artist over the last three and half years," Larson said. "She continues to challenge herself in her work and has a developed an ambitious and dynamic senior exhibition. She approaches her work with great emotion and thought, and combines a variety of mark making and ways of seeing into her highly emotive compositions. I'm looking forward to seeing her work continue to expand in the future."
Davis' show is free and open to the public. Gallery VIP is located at 411 College Ave. in Alva.
For more information on Northwestern's visual arts program, contact Kyle Larson, assistant professor of art, at (580) 327-8108 or krlarson@nwosu.edu.
-NW-