Committee Established to Honor Northwestern's Unsung Heroes
November 30, 2021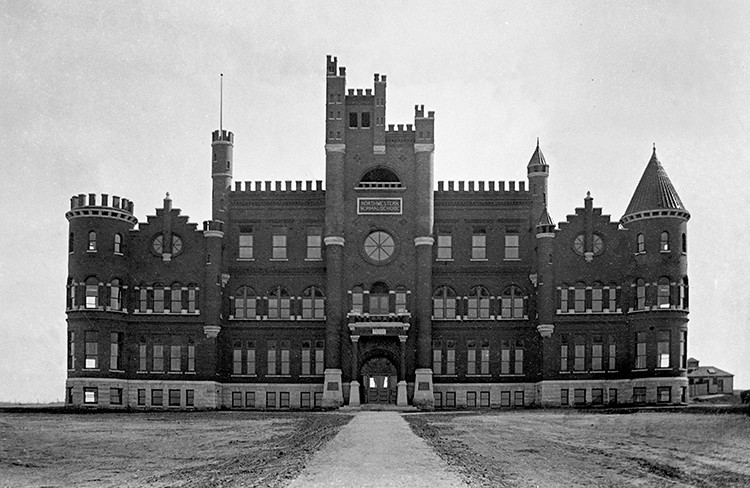 Construction of The Castle on the Hill, Northwestern's first academic building, started in March 1898 and was completed in time for classes in fall 1899. The building was destroyed by fire on March 1, 1935.
Sarah Bosworth, Mary DeLisle, S.L. Johnson, H. Clay and Edith McGrath, D.P. Marum, and George Vickers.
These seven names may not be known to even the most well-versed in Alva's history, but without these individuals from the past, Northwestern Oklahoma State University likely would never have been established in 1897 or continued to provide the quality education it has for nearly 125 years.
University President Dr. Janet Cunningham and John Barton, associate professor of speech emeritus/dean emeritus of Northwestern and long-time Alva resident, have set out to remedy this historical oversight with the establishment of the Unsung Heroes Committee comprised of university employees, students and community members.
Barton said the committee members are tasked with finding ways to honor these seven individuals and a group of 100 other unknown Alva-area citizens who pledged $1,000 of their own money to make sure Northwestern was able to construct its first campus building, The Castle on the Hill. A contract was signed with John Volk, who agreed to build the Castle if 100 individuals would sign their names to a $100,000 bond to guarantee payment for the building if the territorial legislature did not. In March 1898 work began on the building so it could be open for students in the fall of 1899. After its completion, members of the territorial legislature toured the building and voted overwhelmingly to pay for it. Until this time, classes were being taught at the Alva Congregational Church with the first classes beginning Sept. 20, 1897, with 58 students enrolled. By the end of the first school year, enrollment had increased to 166 quickly making Northwestern the second largest higher education school in Oklahoma Territory.
"What we're trying to do is - these unsung heroes, we're going to do some singing," Barton said about the establishment of this committee and its function. "We're going to take it away so it will never be unsung heroes, it will just be heroes. That is our goal."
Five subcommittees have been created to discuss possibilities to honor these early pioneers.
One of the subcommittees established is looking for a way to honor those 100 individuals who pledged their own money to pay for the Castle. On that committee are Dr. Roger Brown, associate professor of business; Thelma Crouch, an alumna of Northwestern who served the university for many years as its alumni director; and Joe Parsons, Alva freshman majoring in business.
Another subcommittee is looking at how to honor Sarah Bosworth and Mary DeLisle, who were hired in 1897 as the school's first two teachers.
"They established the tradition of quality teaching at Northwestern that still exists today," Barton wrote in the first of six articles he penned about the unsung heroes and published in the Alva Review-Courier in November and December 2019.
Members of this subcommittee include Dr. Christee Jenlink, associate dean of education/professor of education; Shannon Leaper, library services director/assistant professor of library and information science; and Ethan Sacket, student success coordinator/transfer student recruiter.
A subcommittee comprised of Dr. Kay Decker, professor emerita of sociology; and Dr. Tim Maharry, professor of mathematics/chair of mathematics and computer science department; is discussing how to honor what Barton calls "the original Rangers" or "magnificent seven" – a seven-man committee responsible for the idea, and implementation of the idea, of the Northwestern Normal School for teacher education in Alva. This committee was led by Alva's first postmaster, S.L. Johnson, who spent the winters of 1896 and 1897 in Guthrie working with both houses of the legislature in trying to gain approval for the normal school in Alva. The committee members helping Johnson included H.L. Ross, W. F. Hatfield, James Kelley, C.C. Hudson, A.H. Andrews and Jesse J. Todd.
In article two that Barton wrote for the Courier, he names Johnson as basically the "Father of Northwestern" because of the work he did to secure higher education in Alva. However, Barton said, "Johnson is someone no one has ever heard of – no one knows his name."
He added in the article, "I believe that not recognizing his contributions is the most grievous oversight when it comes to honoring individuals of Northwestern's past. Without his work, it is doubtful that Northwestern would be in Alva."
Dr. Dean Scarbrough, professor of agriculture/chair of agriculture department; Dr. James Bell, associate vice president for academics/dean of faculty; and Angelia Case, academic projects assistant/media specialist; are working together to find a way to honor two individuals instrumental in providing land for the establishment of the campus -- H. Clay and Edith McGrath.
Barton wrote in article three of his series that Johnson decided to advertise to see if anyone would offer to give 40 acres of land for the school. An overwhelming number of offers were presented, and the committee decided to go with one made by the McGraths that would have placed Northwestern directly east of the current main campus across Highway 281, but a "cloud on the title" arose with this offer so the committee then chose to accept the offer from J.T. and Agnes Fryer, which is Northwestern's current location.
Because of the developments, the McGraths paid the Fryers for 20 acres of the land so these two families equally shared in providing the 40 acres for the Northwestern location.
In 1969, two dormitories were built with one being named Ament Hall after Northwestern's first president (James Ament) and the other being named Fryer Hall to honor the Fryers for the donation of land to establish the campus. Somehow, the contribution of the McGrath family was overlooked, something Barton is hoping to remedy.
A fifth subcommittee, comprised of Tamara Brown, assistant professor of speech/communication department chair; and Skeeter Bird, chief executive officer of the Northwestern Foundation and Alumni Association, is looking into honoring territorial legislators George Vickers of Alva and D.P. Marum of Woodward for their leadership over two legislative terms in getting the bill approved and signed by the territorial governor to establish Northwestern Normal in Alva.
Barton wrote in his fourth article that there was much opposition in the territorial legislature to the normal school being approved in Alva. After a lengthy process, Vickers reportedly reminded Gov. W.C. Renfrow that he was head of the appropriations committee and would not sign any payroll checks, including the governor's if the Alva bill was not signed. The bill was signed creating Northwestern Territorial Normal in Alva, Oklahoma Territory, in March 1897. Marum was instrumental in helping Vickers get the bill passed to provide higher education in northwest Oklahoma.
An interesting story is told that both Vickers and Marum wanted the school for their communities, but they knew only one location could be successful, so it was told that a card game between Vickers and Marum was played with the understanding that the winner would take all and the loser would help the other get the normal school in his community. Barton noted that although it is unknown what card game was played or the outcome, Alva ultimately went for the normal school, and Marum worked hard to help get the approval.
"There are so many individuals from the past who played pivotal roles in the history of Northwestern," Cunningham said. "Mr. Barton is working diligently to ensure that these unsung heroes are not forgotten."
Barton gives much credit to the insight of Northwestern's history to the work of the late Wayne Lane, who served Northwestern for many years as faculty and the university's public relations director. Lane wrote and published in 1996 "Northwestern Oklahoma State University: A Centennial History" for the university's centennial celebration in 1997. Many of these "unsung heroes" are written about in this book, but Barton believes it's time these individuals received additional thanks for helping in the establishment of Northwestern.
Barton also noted that he welcomes further information from any family members related to any of these individuals responsible for helping Northwestern to become established. He may be contacted by calling (580) 327-0406.
-NW-