Chisholm Trail symposium to be held in September at Northwestern-Enid
August 28, 2017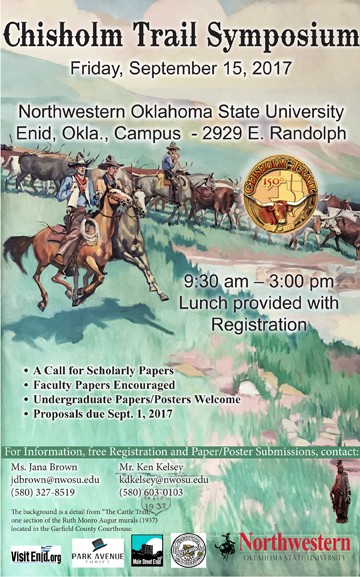 Chisholm Trail Expo event details
---
Northwestern Oklahoma State University's Department of Social Sciences and the Northwestern Institute for Citizenship Studies announce the upcoming Chisholm Trail Symposium that will be held on Friday, Sept. 15, at the Northwestern-Enid campus.
Scholars, students and members of the general public are invited to participate. Professional development certificates will also be issued to teachers who attend the symposium. The deadline for participant registration is Friday, Sept. 1. A free lunch is provided for registered participants. Conference planners are still seeking submissions of scholarly papers and/or research posters from professional or student historians on the subject of the Chisholm Trail.
Events for Friday, Sept. 15, begin at 9:30 a.m. with sign-in, followed by a welcome from Dr. Kay Decker, chair of the Department of Social Sciences; Dr. James Bell, associate vice president for academics and dean of faculty; and Dr. Wayne McMillin, dean of Northwestern-Enid. Throughout the day, participants may engage in discussion and listen to scholarly presentations. Lunch will be served, and Dr. Bob Blackburn, executive director of the Oklahoma Historical Society, will give the keynote address during lunch.
Participants and panelists will be treated to lectures from Dr. Brad Bays, associate professor of geography at Oklahoma State University; Historian Frank Norris from the National Park Service; and Jim Fulbright, author of numerous books, including "Trails to Old Pond Creek: The Early Days of Trade & Travel in Northwestern Oklahoma."
There will be a special appearance by a Chisholm Trail Drover from the Oklahoma Historical Society, and lunch will be enlivened by the presence of Northwestern's University Singers under the direction of Karsten Longhurst, director of choral studies and instructor of music.
A particular highlight of the day will be a special presentation honoring Enid historian Robert Klemme. Thanks to Visit Enid, a two-disc DVD set discussing the Chisholm Trail and Bob Klemme will be available for purchase at the symposium.
For more information about the symposium, registration, or paper/poster submissions, contact Jana Brown, instructor of history from Northwestern's Department of Social Sciences, at (580) 327-8521 or jdbrown@nwosu.edu, or Ken Kelsey, instructor of history from Northwestern's Department of Social Sciences and instructor of fine arts from Department of Fine Arts, at (580) 327-8523 or kdkelsey@nwosu.edu.
-NW-
CONTACT FOR RELEASE
Ali Gavitt, University Relations Specialist
apgavitt@nwosu.edu, 580-327-8480