Booth donation to transform athletic training department
October 6, 2021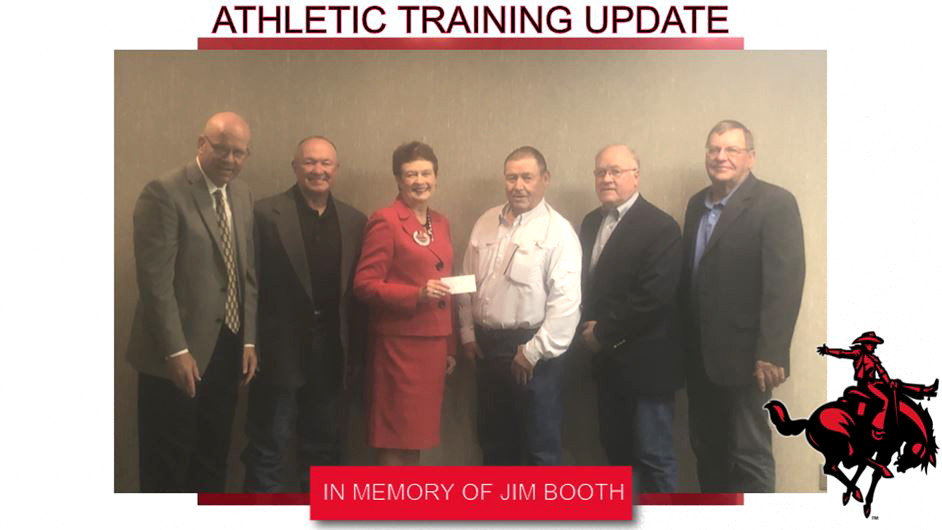 Friends of James Booth - making donation
Northwestern Athletics Release
Alva, Okla.- Northwestern Oklahoma State University Athletics announces a $500,000 gift from the late James Booth of Coldwater, Kan. The funds from this gift will be used for student trainer scholarships, a complete renovation of the athletic training room in Percefull Fieldhouse, and the addition of training equipment to the athletic training room in Percefull Fieldhouse. The new training room will be named the "Jim Booth Training Room" in memory of Booth.
Booth was a lifelong supporter of Northwestern, both in academics and in athletics. He is a 1973 graduate of Northwestern and was a stalwart for the athletic teams at Northwestern where he was the first student trainer for the football and baseball teams. Booth was considered more than a trainer as he would challenge and motivate his athletes through his own personal experience.
Due to his premature birth, Booth was left with physical challenges which did not allow him to play sports. Booth nurtured his love for athletics by motivating his athletes to achieve their goals.
"Jim Booth was a true Ranger, through and through," said Dr. Janet Cunningham, President, Northwestern Oklahoma State University. "His love for Ranger athletics is now memorialized forever by this wonderful donation."
After graduation, Booth taught and coached in public schools throughout Oklahoma serving in Freedom, Waynoka and Keyes and was a longtime baseball umpire. Booth sent many students and student-athletes to Northwestern over the years. He was proud that so many of his former students had sons and daughters who would go on and play at Northwestern.
Booth was a consistent presence at all Northwestern football games and would watch from his usual tier spot or with his fellow Rowdy Rangers. He remained connected to his Northwestern family, including former athletes and teammates. The pride Booth showed for the Rangers was nonstop as the lifelong Rowdy Ranger took great pride in being from Northwestern. He often said his times at Northwestern were the best days of his life.
"I am honored to be a part of Jim's continued support of Northwestern athletics" said Bill Kusik, a close friend and teammate of Booth. "I know he would be very proud of the improvements that will be made in the training facility and the opportunities afforded to future trainers who will receive a scholarship in his name. Jim was one of a kind and a dear friend. I am happy his legacy will live on."
Booth passed in February.