19 Northwestern students in children's production 'McQuadle: A Dragon's Tale'
November 15, 2017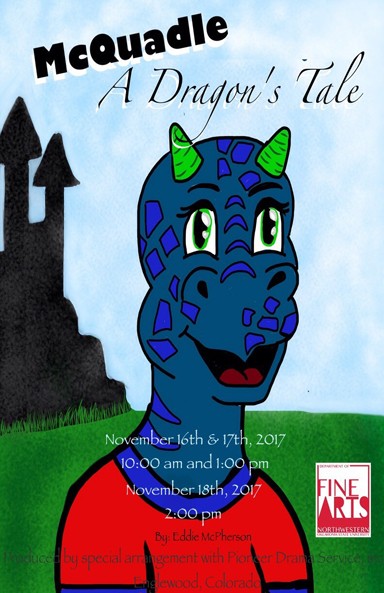 Nineteen Northwestern students will take to the Herod Hall Auditorium stage Nov. 16-18 for the annual children's production, "McQuadle: A Dragon's Tale," a show will be open to the public on Saturday, Nov. 18, at 2 p.m. Admission is $1.25 for public show
---
Nineteen Northwestern Oklahoma State University students will take to the Herod Hall Auditorium stage Nov. 16-18 for the annual children's production, "McQuadle: A Dragon's Tale."
Nearly 1,800 elementary students from surrounding schools will be attending four shows just for them Thursday and Friday, Nov. 16-17, with a show open to the public on Saturday, Nov. 18, at 2 p.m. Admission is $1.25.
Kimberly Weast, professor of theatre and chair of the Department of Fine Arts, is the director.
According to Pioneer Drama, play publisher website, the production is about McQuadle, a dragon who wants to know his purpose in life, and he will go to almost any length to find it out — even if it means visiting an Evil Queen who lives in a castle on top of the hill. When he arrives, McQuadle learns that the Queen has lured him there for her own secret purposes, and she doesn't intend on letting him get back home at all. But McQuadle promised his mother he'd be home for dinner! Three storytellers with crazy personalities of their own lead the audience through this fun adventure that includes audience participation, laugh-out-loud silly jokes and sight gags.
The cast for the play, their majors, classifications and hometowns along with the characters portrayed, includes: Taylor Alexander, English freshman from Duncan, as "McQuadle;" Michelle Willson, mass communication freshman from Conway Springs, Kansas, as "Little Foot;" Tori Hurley, speech/theatre senior from Sheffield, Iowa, as "Assistant" and "First Wizard;" Mickey Jordan, speech/theatre senior from Iowa Park, Texas, as "Eugene;" Mary Berntsen freshman undecided major from Conway Springs, Kansas, as "Fairy Princess," Katherine Blair, instrumental music sophomore from Waynoka, as "First Daughter;" Albert Zedan Borrie, music junior from Tonkawa, as "Chad;" Michael Day, nursing freshman from Okeene, as "Jack of All Trades;" Chloe Henderson, psychology freshman from Conway Springs, Kansas, as "Evil Queen;" Elizabeth Jackson, early childhood education freshman from Yukon, as "Second Daughter;" Dalton Jantz, computer science freshman from Helena, as "Second Jester;" Peyton Lucas, psychology freshman from Fairview, as "Bully" and "Announcer;" Allison Smith, speech/theatre sophomore from Hawkins, Texas, as "Britanyy;" Madison Wilson, speech/theatre sophomore from Enid, as "Little Red;" Nicholas Wygle, biology junior from Noble, as "Thurman" and "Lead Wizard;" Ethan Sacket, business administration freshman from Aline, as "First Jester;" Tiffany Willson, business administration sophomore from Conway Springs, Kansas, "Wee Wee" and "Second Wizard;" Karlie Osborn, history senior from Alva, as "Miracle;" and Michelle Penner, Master of Education graduate student from Cherokee, as "Mother Dragon."
Production team members, their majors, classifications and hometowns are: Weast and Jordan as scenic designers; Jordan as scenic artist; Crosby Dunbar, speech/theatre freshman from Owasso, as lighting board operator; Wygle and Sara Wilson, biology freshman from Alva, as audio design; Sara Wilson as audio board operator; Alica Hall, Master of American Studies graduate student from Alva, as costume mistress; Meghan Webb, biology sophomore from Alva, as costume assistant; Smith, Dunbar, Madison Wilson, and Jordan as prop masters; Hurley and Wygle as master carpenters; Hurley as make-up design; Wygle, Jordan, Blair, Penner, and Allison as make-up assistants; Hurley as graphic design; Amanda Metcalf, instrumental music junior from Enid, and Tiffany Willson as house managers; and Hurley and Tiffany Willson for public relations/advertising.
The Northwestern students serving as the cast and crew in this production are fulfilling class requirements for Weast's Theatre Production I and II and Acting I courses.
For more information on theatre performances and courses at Northwestern, contact Weast at (580) 327-8462 or kkweast@nwosu.edu.
-NW-
CONTACT FOR RELEASE:
Ali Gavitt, University Relations Specialist
apgavitt@nwosu.edu, 580-327-8480?