17 Northwestern student teachers begin assignments in area schools
August 27, 2019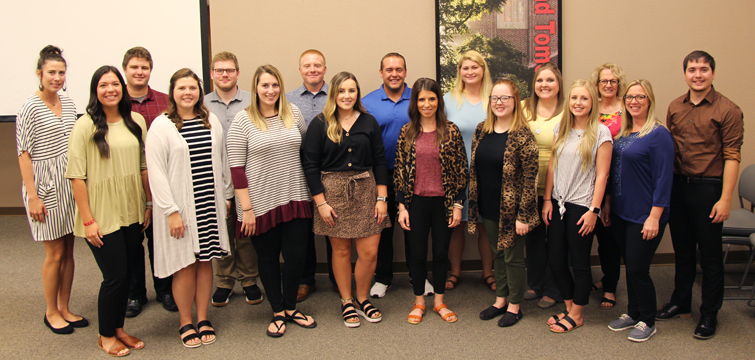 Senior education majors are beginning their student teaching assignments in area schools. The students along with education faculty include (front row, left to right) McKenzie Billy, Megan Brown, Katelyn Pierce, Sarah Castillo, Bailey Chavez, Morgan Webb, Lainey Coldren, Kirstie Coffman; (second row) Tiffany Guffy, Aaron Pierce, Clinton Shelton, Tanner Bowman, Trenton Harmon, Karly Murray, Kelcie Hainley, Dr. Martie Young and Brannon Robinson. Not pictured Jennifer Cortez.
---
Students leave Northwestern Oklahoma State University with the knowledge to succeed in a particular field. In their final semester, 17 senior education students have received their student teaching assignments and have entered area schools to gain hands-on experience.
The students will return to campus for seminars in November and their portfolio exit interviews in December. Graduation is scheduled for Dec. 8.
Listed below are the students, their hometowns and teaching assignments.
Biology Education – Tanner Bowman of Cherokee, Cherokee High School
Elementary Education – McKenzie Billy of Thomas, Watonga Elementary School; Megan Brown of Blackwell, Ponca City Elementary School; Sarah Castillo of Waynoka, Longfellow Elementary School (Alva); Bailey Chavez of Arnett, Angie Debo Elementary School (Edmond); Kirstie Coffman of Ponca City, Tonkawa Elementary School; Jennifer Cortez of Perryton, Texas, Mustang Valley Elementary School; Tiffany Guffy of Timberlake, Cherokee Elementary School; Kelcie Hainley of Fairview, Hayes Elementary School (Enid); Brannon Robinson of Enid, Taft Elementary School (Enid); Morgan Webb of Pioneer-Pleasant Vale, Waukomis Elementary School
English Education – Karly Murray of Hinton, Alva High School
History Education – Trenton Harmon of Garber, Newkirk High School; Clinton Shelton of Shattuck, Woodward High School
Music Education – Aaron Pierce of Alva, Enid High School; Katelyn Pierce of Vici, Hoover Elementary School (Enid)
Special Education – Lainey Coldren of Ponca City, Fogerty Elementary School (Guthrie)
Teacher candidates will be able to take part in the Teacher's Closet premiere event that helps each student get free and "new" professional outfits to help transition their wardrobe to professional dress. For more information or to donate gently used or new clothing to benefit young professionals contact Dr. Jen Oswald, assistant professor of education, at (580) 327-8451 or jdoswald@nwosu.edu. Find "The Teacher's Closet" on Facebook for updates.
For more information on Northwestern's teacher education program contact Dr. Christee Jenlink, professor of education and associate dean for the School of Education, at (580) 327-8450 or cljenlink@nwosu.edu.
-NW-
CONTACT FOR RELEASE
Erin Davis University Relations Specialist
eedavis@nwosu.edu, 580-327-8480