Presidential Search
Northwestern Oklahoma State University and the Regional University System of Oklahoma have teamed with
Higher Education Leadership Search to seek presidential candidates who will lead Northwestern into the future.
The search has been narrowed to two finalists. Those finalists will go through a second round of interviews May 12-13.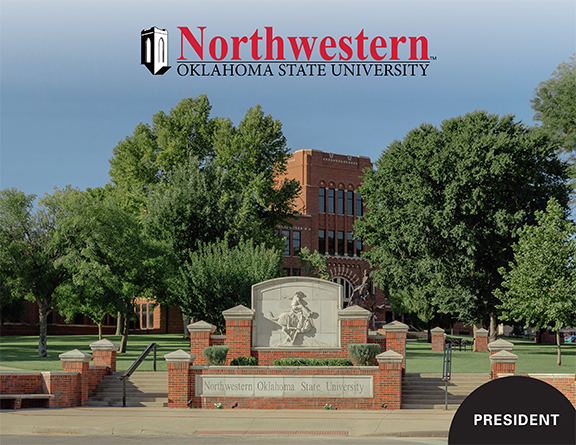 Bill Meehan, Ed.D. and Alan Medders, Ph.D. will be assisting RUSO and Northwestern Oklahoma State University with the search.
If you have questions or would like to have a confidential conversation about the position, call 256-239-2305 or e-mail:
billmeehan@highereducationleadershipsearch.com
alanmedders@highereducationleadershipsearch.com

Northwestern Oklahoma State University is an Equal Opportunity Employer and specifically invites applications from women, minorities, veterans and people with disabilities.
The application/nomination deadline has passed.
Zoom interviews, conducted by RUSO, will take place on April 18. Eight candidates will be interviewed.
Presidential Search Screening Committee
Regents
Eric Fisher (committee chair)
Jane McDermott
Chris Van Denhende
Faculty
Dr. Roxie James, chair of the Department of English, Foreign Language and Humanities
Dr. Dean Scarbrough, chair of the Department of Agriculture
Student
Erika Hernandez, senior education major from Laverne
Administrators
Dr. David Pecha, vice president for administration
Staff
Kevin Fields, health and safety officer
Community Leaders
Jim Dunning, owner at ICT-CPA
Tom Evans, corporate valuation at Encompass Financial Services
Todd Holder, Alva State Bank and Holder Drug
Dwight Hughes, superintendent and CEO at Autry Technology Center
Alexa Humphries, financial adviser at Edward Jones
Connor Martin, councilman with City of Alva, owner of Peak Environment
Janice Melton, past warden at Bill Johnson Correctional Center
L.D. Rapp, Northwestern Foundation chair
Kyle Reynolds, superintendent of Woodward Public Schools
John Ryerson, owner at Starr Lumber Company